Get the Filing the FAFSA Book for Free
The Ultimate Guide to the FAFSA® 2017-2018 Edition
Download our free PDF to maximize your eligibility for financial aid.
More than 50,000 copies downloaded
Line-by-line instructions with easy to follow screenshots from the 2017-2018 FAFSA
Glossary to help you decipher confusing financial aid lingo
Interactive index takes you directly to the topic you need
Hot Topics
Tips for Increasing Financial Aid - Page 126
How to Avoid Common Errors - Page 146
States with early FAFSA deadlines - Page 56
Who is considered a parent on the FAFSA - Page 63
How to makes changes to your FAFSA - Page 136
Take a peek at the Table of Contents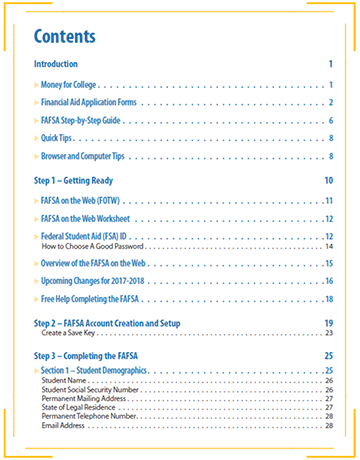 Download your free copy of Filing the FAFSA now
Copyright © 2018 by Edvisors.com. All rights reserved.