Free Download: Filing the FAFSA Guide 2018-2019 Edition
We're taking the guesswork out of filing the FAFSA with our free guide. Download the 2018-2019 PDF today to help make filing quick and easy!
Why Download the Filing the FAFSA Guide?
Filing the FAFSA is the only way to apply for federal student aid, including grants, scholarships, and loans. Our free guide aims to make it easy for students and families to complete and submit the FAFSA, by answering commonly asked questions and providing helpful resources.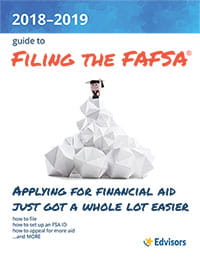 What's Inside
Understanding the 2018-2019 FAFSA
Making Changes to the FAFSA
Am I a Dependent or Independent Student?
Who is Considered a Parent for the FAFSA?
FSA ID Explained
How to Appeal for More Financial Aid
...and more!
Looking for FAFSA info for the previous academic year?
Click here for the 2017-2018 version of Filing the FAFSA.
Copyright © 2018 by Edvisors.com. All rights reserved.