Student Aid Secrets: Offset Capital Gains With Losses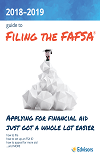 Take the guesswork out of filing the FAFSA.
When an investment is sold, it can result in capital gains that artificially increase income. Financial aid formulas are heavily weighted toward income, so increasing income can result in a decrease in eligibility for need-based financial aid.
Selling investments can also result in capital losses. Capital losses can offset capital gains and up to $3,000 in income. If capital losses exceed capital gains by more than $3,000, the taxpayer may carry over the excess capital losses to subsequent years.
Thus, realizing a net capital loss can have a tax benefit and also increase eligibility for need-based financial aid.
When a family needs to sell investments to pay for college bills or other expenses, they should try to balance investments that have appreciated in value with investments that have lost money, so that the capital gains net of capital losses are as close to zero as possible or below zero. Since some aspects of the need analysis formulas depend on adjusted gross income (AGI), having capital losses offset up to $3,000 in income can increase eligibility for need-based aid.
Note that even though investments are reported as assets as of the date the FAFSA is filed, capital gains and losses from the sale of investments are reported on the taxpayer's federal income tax return. So, if a taxpayer sells investments after the end of the tax year, the capital gains and losses will be reported on the subsequent year's FAFSA, if any.
Copyright © 2018 by Edvisors.com. All rights reserved.