Student Aid Secrets: Test Strategies Before Using Them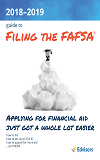 Take the guesswork out of filing the FAFSA.
Before using any student financial aid strategy, test it by playing a what-if game with an Expected Family Contribution (EFC) calculator. Don't waste time and effort on implementing a strategy that doesn't affect the student's EFC. For example, if the family qualifies for the simplified needs test, there is no point in shifting assets from the child's name to the parent's name, since all assets will be disregarded.
There are several tools that can be used to "test drive" the Free Application for Federal Student Aid (FAFSA) without completing the full form. One is the FAFSA4caster tool from the U.S. Department of Education, which calculates an estimate of the EFC using a simplified version of the federal financial aid formula. Every college provides a net price calculator on its web site that can be used to get a personalized estimate of the net price of enrolling in the college, after subtracting grants and other gift aid from the college's annual cost of attendance.
Copyright © 2018 by Edvisors.com. All rights reserved.