June 2016 Newsletter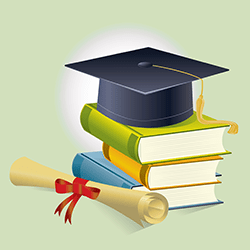 The Student Survival Guide
The perfect tool for navigating through high school & college successfully.
Getting ready for college? Check. Federal student Aid? Check. Scholarships? Check. Private loans to cover the costs left over?
Now, we're filling in the gaps.
Tips for Comparing Student Loans
After scrutinizing your financial aid package, you may find that you come up a little short. In that case, make sure you know what to look for in a private loan. Here are some tips to help you compare your options.
Look at the Annual Percentage Rate (APR). APR includes associated fees and is a better comparison point than interest rate alone.
Know your fees and limits. Compare origination and application fees, along with any borrowing limits.
Learn about fixed and variable rates Private loans now give you the option to choose between fixed or variable, and the rates may even be lower than Federal loans for some borrowers.
Find a cosigner with great credit. More than 90% of approved private loan borrowers applied with a cosigner.
Compare repayment benefits such as payment plans, deferment options, and auto-debit or relationship discounts.
Learn more about comparing loan options.
The Seven Scholarships
This monthly section of the Edvisors Financial Aid Newsletter features an intriguing list of scholarships that share a common characteristic. We hope this section will make you smile and inspire you to apply for more scholarships.
LBGTQ Scholarships
ScholarshipPoints.com
Don't miss the exciting scholarship opportunities this month on ScholarshipPoints.com. To enter, simply log in to your account and spend your points on these drawings before midnight Pacific Time on the date indicated:
$1,000 Stars and Stripes Scholarship 2016 (6/30/16)
$1,000 Father's Day Scholarship 2016(6/30/16)
$1,000 Summer Spectacular Scholarship 2016 (6/30/16)
ScholarshipPoints $10,000 Scholarship (9/16/16)
Watch for our notification emails to see if you are a winner!
Learn more about the ScholarshipPoints program.
Ask the Edvisor®: Your Questions, Answered
Question:
I am currently an undergraduate in college. My parents and I are in the process of completing my 2016-17 FAFSA (Free Application for Federal Student Aid). Can my sibling attending graduate school be included in the number in college on the FAFSA?
Answer:
If your parents will provide at least one-half of your sibling's support for the upcoming award year (i.e., between July 1, 2016 and the following June 30, 2017), even though the sibling would be considered independent for the award year (i.e., a graduate student), the sibling can be included in the parents' household size as well as in the number in college.
Term of the Month
Loan Servicer
A loan servicer is a company that manages sending out statements and coupon books and collecting payments on a loan, as well as other customer service functions. Some lenders service their own loans, while others outsource it to a third party company that specializes in servicing loans.
See more terms in the Edvisors glossary.
Scholarship Matcher
With millions of scholarships in our database, and a step-by-step matcher, you can easily find and apply to the scholarships most relevant to you!