June 2015 Newsletter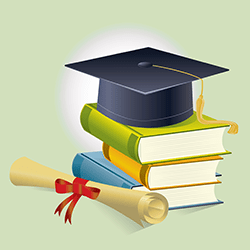 Tips for Comparing Student Loans
After scrutinizing your college bill, and consider federal student loans, you may find that you come up a little short. In that case, make sure you know what to look for in a private loan. Here are some tips to help you compare your options.
Look at the Annual Percentage Rate (APR). APR includes loan fees and is a better comparison point than interest rate alone.
Know your fees and limits. Compare origination and application fees, along with any borrowing limits.
Find a cosigner with great credit. More than 90% of approved private loan borrowers applied with a creditworthy cosigner.
Late Deadline Scholarships
This monthly section of the Edvisors Financial Aid Newsletter features an intriguing list of scholarships that share a common characteristic. We hope this section will make you smile and inspire you to apply for more scholarships.
Monthly Stats
$35,000
The average student-loan debt for a Bachelor's degree recipient in the class of 2015
Ask the Edvisor: Your Questions, Answered
Question:
Can my grandfather borrow a Federal PLUS loan instead of my parents? My mother says her credit scores are probably too low to qualify.
Get the answer from the financial aid experts at Edvisors.
Twisdoms
Parents should borrow no more for all their children than their annual income.
Term of the Month
Satisfactory Academic Progress
Continued eligibility for federal student aid requires the student to be making satisfactory academic progress (SAP) toward a degree or certificate.
See more terms in the Edvisors glossary.
Hot Money Tips
If you need help in filing the FAFSA, download our free guide.
Copyright © 2018 by Edvisors.com. All rights reserved.