August 2013 Newsletter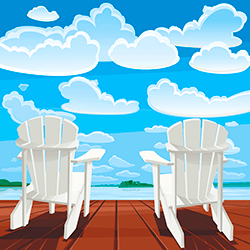 Why Disbursement Day Can Change Your Life
If you receive any type of financial aid, you've probably heard the word "disbursement" a few (hundred) times and wondered how disbursement works and why it's so important to your college life.
Disbursement day is when your school takes the financial aid money received on your behalf (from scholarships, grants, federal loans, and private student loans) and applies it to your student account to cover the cost of tuition, fees, and room and board. In the financial aid world, it's the day your college bills are paid.
So, check your school's calendar to find out when disbursement day happens, and make sure you complete all required tasks by then.
Learn more about student loan disbursement.
The Allure of the On-Campus Job
Now that a new school year is upon us, you're probably wondering how you are going to pay for all the college expenses that keep piling up. A part-time, on-campus job can be a great way to meet those expenses.
On-campus jobs have two significant benefits. First, you will be working close to where your classes take place, so the commute will be minimal. Second, the hours will be flexible; these jobs were created with the sporadic nature of college student schedules in mind.
Some on-campus jobs are part of the work-study program and are funded through financial aid. If work-study was included in your award package, check with the financial aid office to find out where these jobs are posted--they might be in a special location.
Your school's various departments fund the non-work-study jobs. See if there is a career center of jobs website where all on-campus openings are posted. If not, you'll need to check with the individual departments. Try not to limit yourself--think beyond your usual interests. And above all, be persistent in your search for the right part-time, on-campus job.
Learn more about the benefits of working while you go to college.
$10,000 Scholarship Up for Grabs
On September 16, 2013, ScholarshipPoints.com will give away a $10,000 scholarship to one lucky member of the ScholarshipPoints program. You're not currently registered for the drawing, but fortunately, you still have time to join ScholarshipPoints.com. Just complete the registration process and you'll automatically get one entry for the $10,000 scholarship. Then, you can start earning and spending points to gain more entries--and increase your chances of winning!
Head over to ScholarshipPoints.com and sign up right now.
Featured Scholarships
Here are some new scholarships to check out:
See more new scholarships.
Helpful Links