September 2018 Newsletter

Choosing where to go to college is one of the most complicated and important financial decisions most families ever make - and good information is hard to find. Edmit is here to help. Get personalized recommendations on financial preparation, how to pay less for college, and get more from your investment. Registering for an account is free and takes just seconds! Sign up here.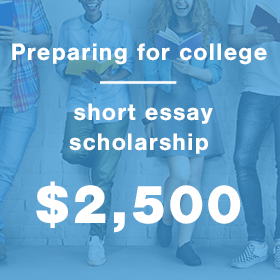 Don't Miss Your Chance to Enter!
Time is running out to enter our first $2,500 short essay scholarship. Enter by September 30, 2018 for your chance to win. Click here for eligibility requirements and to enter!

6 Scholarships
Six Scholarships Based on Physical Characteristics
Maximize Your Aid by Filing Early
It's almost FAFSA time! The 2019-2020 FAFSA form will become available on October 1st. The sooner you file, the more aid you may receive. To prepare, create your FSA ID ahead of time. Here's how!



Your College Questions Answered
Listen to our in-house expert, Elaine Griffin-Rubin, address frequently asked financial aid questions as a guest on the Your College-Bound Kid podcast.
LISTEN HERE>>
Copyright © 2019 by Edvisors.com. All rights reserved.