In the month prior to the election, Edvisors conducted a nationwide poll to determine the political sentiment amongst Generation Z voters. The survey received 1,183 responses from 18-24-year-olds. The survey demonstrated not only that 75% of Gen Z voters indicated they are very motivated to vote, but out of the 1,055 likely voters 48% favored Joe Biden over Donald Trump (25%).
However, when it came to election outcomes, the tone changed a bit. Out of the 1,055 likely voters, the prediction of the winner is Donald Trump (35%) to Joe Biden (30%). Thirty-five percent of likely voters remained unsure a month prior to the election.
Gen Z Voters
It seems like Gen Z is ready to act and get out there to vote. An overwhelming 89% of respondents indicated that they are likely to vote, and it will be the first time for 67% of them.
It was clear that political affiliation will impact method of voting. Out of the 264 likely voters who identified as Republican, 43% indicated that they would vote in-person on election day. While 38% of the respondents likely to vote who identified as Democratic indicated they will be voting by mail. Only 47% of likely voters feel somewhat optimistic that their votes will be counted fairly and accurately.
Generation Z Politics
As Gen Z has moved into adulthood, the generation has witnessed the impact of political issues on everyday life. When asked to identify their top issues of concern, they identified education (85%), jobs and the economy (81%), and health care (79%). They then ranked civil rights and civil liberties (76%), crime and criminal justice reform (70%), taxes and government spending (68%), and climate change and the environment (66%). The bottom three ranked issues included immigration (59%), gun control (53%), and national security and foreign policy (50%).
Generation Z Higher Education
How to handle the rising costs of college and student loan debt have been major issues in higher education. When polled, 42% of likely voters indicated that they support free college for everyone. However, there were some clear distinctions between political party affiliation. Sixty percent of Democratic likely voters were for free college, compared to only 19% of Republican likely voters. In addition, 33% of Republican likely voters didn't support free college of any form, compared to only 1% of Democratic likely voters.
When tackling the issue of student loan debt, all respondents were given an opportunity to choose from multiple methods that have been proposed over the past year. The top methods chosen included, stop charging interest and fees on federal student loan debt (59%), forgive student loan debt for everyone (34%), and require public service for student loan forgiveness (24%). Only 8% of respondents indicated that they believe the best method is to require everyone to repay borrowed loans in full.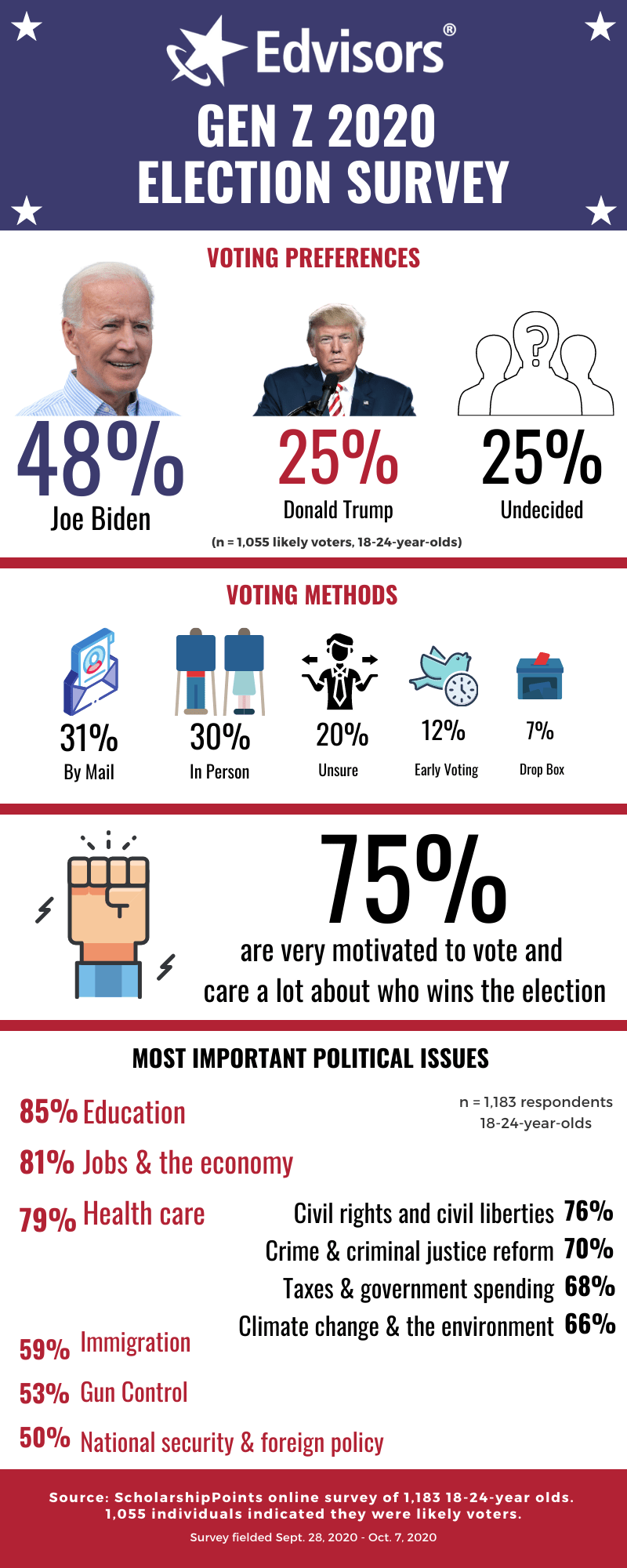 Methodology: Edvisors conducted a nationwide online survey of 18-24-year-olds. A total of 1,183 responses were received, with 1,055 individuals indicating they were likely voters. All survey respondents were recruited from Edvisors' proprietary ScholarshipPoints.com community and fielded from Sept. 28, 2020 – Oct. 7, 2020. The survey focused on Gen Z's feelings and preferences towards the 2020 United States presidential election. The sample's demographics reflected Edvisors' diverse audience with 20% of respondents identifying as Hispanic, 18% identifying as African American, and 8% identifying as Asian.