Edvisors rates apps objectively based on features, costs and respective app store ratings and reviews, as well as how an app compares with similar apps within the same category. "Best" determinations are solely the opinion of Edvisors. We may earn commissions or other compensation when you visit third-party websites or purchase products through links on our website.
If you ever plan to buy a home, rent an apartment, get a credit card, or secure a personal loan,then having a good credit score will be key for those goals. What does a good credit score look like? Well, a FICO® score of 670 or above is usually considered good. FICO is one of the most popular credit scoring models used by lenders. A score in this 'good' range can boost your chances of getting approved for a loan and might even score you lower interest rates.

But what if your credit score isn't quite up to par yet? Don't worry! There are ways to give it a boost over time. Credit-building apps, for example, can be a great tool to help you improve your credit score. They allow you to track your progress and identify loans that you're likely to get approved for. So, with a bit of patience and the right tools, you can work your way towards a better credit score.
How Can a Credit Building App Help You?
No matter what your credit score is, a credit-building app can help you meet your financial goals and stay on track. At their core, credit-building apps help individuals improve their credit scores by providing them access to:
Credit reporting services. All three of the major credit reporting bureaus offer some sort of app. These apps, such as Experian Boost, can improve your credit by reporting alternative payment data. To do this, they will consider payments that are not usually factored in when calculating your credit scores, such as utility and rent payments.
Credit building lenders. Many lenders offer individuals building credit small personal loans to improve their scores. Firstly, the lender typically deposits the entire loan amount into your bank account. You will make monthly payments for a fixed period of time, and if you make your payments on time, you will gain access to the full loan amount. Making payments on a personal loan is one way to increase your credit score quickly and efficiently.
Credit monitoring services. You must have a comprehensive understanding of your current financial situation before you can start effectively building credit. Credit monitoring apps allow you to view your current score and keep track of it as it changes. They can alert you when a hard credit inquiry is made or if any accounts are opened in your name.
Credit Building Apps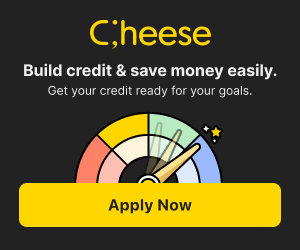 Since the credit-building journey can vary from person to person, it's important to know what options are available to help you boost your credit score. Cheese does its part by offering credit builder loans that enable users to build credit and save money simultaneously. You simply pick a contribution amount starting from $24 and set up autopay for monthly payments - easy to stay consistent. Each month, Cheese reports your payments to all three credit bureaus, helping establish a positive payment history.

The money you pay will be held in your Cheese account. You'll receive back this amount at the end of the loan term, with the interest deducted. There are no administrative fees or membership fees, and no credit check is needed to apply for the credit builder loan.
Build credit for your future!
Prepare your credit for a high-reward credit card, an affordable car loan, or a home mortgage with better rates. Get started with
Cheese
today!
Sponsored Ad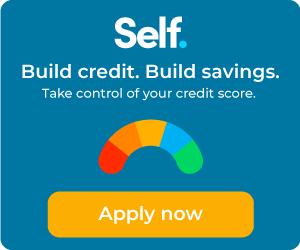 Credit-building loans can be extremely an incredibly instrumental tool when it comes to boosting your credit score. Self is a company that offers credit-building loans to help you improve your credit status. Over time, you will pay down the small loan amount and once you've made all your payments, you will get access to the money. Your money will be held in a CD while you are making payments.

Users can select $25, $35, $48, or $150 monthly payments, depending on how much you want to spend and how much money you want to have access to at the end of your loan. Self does charge an administrative fee of $9 and its interest rates are relatively high.
Build credit. Build dreams. All Credit Scores are Welcome!
It's time to take control of your credit score. Don't let your credit be an obstacle to the possibility of a great personal loan offer -
Try Self
!
Sponsored Ad
Experian Boost
If you have a history of making your rent and utility payments on time, Experian Boost may be what you need to increase your credit score. Experian is one of the major credit bureaus, and its app reports payments that aren't usually factored in when calculating your credit scores, such as subscriptions, rent, and utilities. To use the app, simply sign up and connect the accounts where you pay your rent or bills, giving Experian access to your online checking account allowing them to see you pay your utility bills from that online checking account. They will see your positive activity and can update your existing credit file with them when you make your rent and utility payments in full and on-time.
It is important to note, however, that utilizing Experian Boost is not a substitute for responsibly using credit, and users typically only see a small boost in their credit scores. Although it can't repair bad credit or significantly increase your score, it is free to use and it can help you obtain a few extra points.
SeedFi
SeedFi is a lender that offers those building credit access to a credit-building account (called Credit Builder Prime) that allows them to obtain small, interest-free loans as small as $10. Once you take out a loan, you will pay SeedFi out of your next paycheck and your payment will be reported to the three major credit bureaus. Its services are free.
The company also offers another loan option to those who need smaller, short-term loans. Its Borrow & Grow program gives borrowers immediate access to a loan once they are approved. The loan amount is deposited into a savings account, and once you pay off the loan, you will receive access to the account you have paid into. For many people, the funds in this account serve as emergency reserves in the case of an emergency so they don't have to apply for another loan in the future.
Although the Borrow & Grow program doesn't offer the lowest interest rates, you may want to consider applying for a different loan or credit card for individuals with bad or no credit.
Kikoff
If you want to improve your score by making small, relatively low-maintenance monthly payments, Kikoff can help you. Kikoff is a company that offers a credit account, which serves as a revolving line of credit that you can use like a credit card. Depending on your creditworthiness, you can be approved for up to $750, which you will borrow from to purchase items from the Kikoff store. Once you make a purchase, you will make online monthly payments and see your credit score rise. There are no credit checks and approvals are instant.
You will need to pay a fee of $5 a month to keep your Kikoff account open, but the $5 is included in your credit line. This means that while you are building credit, you won't be borrowing anything except the $5 monthly fee. There are no late fees or interest rates, so you can pay down your purchase fairly quickly. Kikoff reports that the average user can raise their credit score by 58 points or more on average.
MoneyLion
A well-rated credit-building app, MoneyLion has helped more than half of its users increase their credit score by at least 42 points within 60 days (a huge increase). The app has been proven to increase scores, and it allows users to apply for a Credit Builder Plus loan without having to undergo a hard credit check. If you are approved for a loan, you will receive a portion of the funds immediately. The rest of the funds will be stored in a reserve account which can be unlocked later. Unfortunately, there is a $19.99 monthly charge to use MoneyLion's services, which can be a substantial amount if you are on a tight budget.
Please note: Credit score improvement is not guaranteed with this app. Data was sourced from credit score data from over 74,000 Credit Builder Plus members with an active loan between August 7, 2019, and February 18, 2021. Credit score improvement is not guaranteed. Credit scores are independently determined by credit bureaus. MoneyLion is not a Credit Services Organization. Credit Builder Plus is an optional service offered by MoneyLion.
Grow Credit
If you have one or more monthly subscriptions, Grow Credit allows you to build your credit while paying for them each month. Once you sign up, Grow Credit will issue you a Mastercard that can be used to pay for your subscription services. You can add more than 100 subscriptions including Amazon Prime, Netflix, Disney+, and Hulu, just to name a few. After setting up your account and making on-time payments, Grow Credit will report your progress to the major credit reporting bureaus. The service is free and you will have a monthly spending limit of $17 on your Mastercard.
You do have the option to upgrade your account by choosing a monthly spending limit of $50 or $150. You should note, however, that if you choose to upgrade, you will need to pay a fee ranging from $1.99 to $7.99 each month.
Sable
Sable offers individuals the chance to establish a positive credit history using a secured credit card. Depending on your payment history and how much you utilize your card, you may be able to graduate to an unsecured card within four months or less. You will be required to put money down to open the card, but if you make your payments faithfully, Sable will return your deposit. Unlike other cards, Sable allows you to control your entire user experience directly from a phone app.
There are also perks to using your Sable secured credit card. You can earn unlimited 2% cash back at various retailers, including Uber, Amazon, Spotify, and Netflix. You can also get 1% cash back on all other purchases.
Sable is a great option if you can afford the upfront deposit and you are willing to make your payments on time. There are no monthly fees, so you don't have to worry about any extra expenses.
Sesame Cash
Offered by Credit Sesame, Sesame Cash offers users a virtual secured credit card. Once you allocate a certain amount of cash to the card, you can begin to make purchases. The app reports some of your monthly purchases to the credit bureaus to help you establish a history of on-time payments. You will need funds for the upfront deposit, but other than that, the app is free to use at first.
Surprisingly, you will be compensated if your credit score increases. You can earn $100 if you can boost your credit score by at least 100 points in 30 days. Unlike other apps, Sesame Cash can actually pay off if you are dedicated to making on-time payments.
Credit Strong
If you have the money to make monthly payments ranging from $15 to $110, Credit Strong may be a good option for you. Depending on your credit-building goals, you will more than likely find an option that suits you. Although you won't gain access to any loan funds upfront, all your savings will be returned to you at the end of your loan term. There is, however, a cost associated with using Credit Strong's services. You will be charged interest on your loan and you will also need to pay an upfront, non-refundable administration fee.
Extra
The Extra debit card helps users by spending the money available in their bank accounts. Once you sign up, Extra will give you a spending limit based on the amount of funds in your account. With each purchase, Extra will report your transactions to Experian and Equifax (it does not report to Transunion). Extra can connect to more than 10,000+ supported banks, so more than likely, you won't have to change accounts. Within 30 days of each transaction, Extra will initiate an ACH debit equivalent to the amount you spent.
Start Your Journey to Financial Literacy
All of the credit-building apps listed above can help you establish a positive credit history and reach your financial goals. Here at Edvisors, we are also committed to helping students from a variety of backgrounds understand and manage their finances. We offer a wealth of information about student loans, credit cards, and financial competency to anyone interested. Contact us today to start your journey to financial literacy.