What Is a Private Student Loan?
A private student loan is essentially a non-federal loan you can use to cover your college-related costs.

In simpler terms, when your federal financial aid, scholarships, and personal savings fall short, that's where private student loans come into play. They're there to help you make up the difference or, as some colleges and universities might put it, "cover the gap". It's pretty much as straightforward as that.
The conventional wisdom is that you should always file the FAFSA® (Free Application for Federal Student Aid) first to see how much you may qualify for in federal or state-based aid before you explore private loans. And we won't argue that logic. But we will point out that there may be times where it makes sense to compare private loans to federal loans because private loans may actually have an advantage. This is particularly true for parents.
Best Private Student Loans
We work with some of the nation's best private student loan companies to help meet your needs. Our website allows you to easily compare and shop for the loan features and benefits that matter most in the short-term and the long run.
Some websites may attempt to give a star rating or 'reviews' to compare lenders. But beware. Not only are some of these so-called reviews fake, but lenders reserve the right to change their product offerings and loan terms in order to remain competitive. That could happen more frequently than you think. Our site is constantly updated and our participating lenders' features and benefits are expressed in their own words. So you can hear what they believe matters most to you as a potential customer.
To find the best private student loan, here's how to read our lender comparison page:

What to Look for In a Student Loan
Low interest rate
Zero (or low) origination fees
Low or no fees during repayment (example: late fees)
Favorable repayment terms
Competitive benefits (example: 0.25% interest rate reduction for auto pay, or cosigner release)
The Best Student Loan Rates
Below is a comparison of competitive rates offered by our top, participating student loan lenders. The rates advertised are expressed as Annual Percentage Rates (APRs) which could be either fixed or variable, and are subject to change.
It is important to understand that sometimes the lowest advertised rate comes with conditions, such as agreeing to have your loan payments automatically debited from your checking or savings account. So be sure to read the fine print. Additionally, the rates advertised are usually the starting rates and could be higher. The actual rate you may qualify for depends on your creditworthiness, or the creditworthiness of your cosigner.
Compare Featured Lenders
Lender

Recommendation
Best for Private Undergraduate and Graduate Loans
Lender

Recommendation
Best for Private Loans
Repayment Terms
Up to four repayment types (including no payments while in school) and multiple repayment terms help you find the loan that fits your budget
Lender

Recommendation
Best for Private Funding
Repayment Terms
Payments based on a fixed percentage of future income for up to 60 months after graduation
Only pay when earning more than the $30,000 minimum income threshold.
Payments stop early if you ever hit the payment cap (2.0x your initial funding amount)
Interest Rates
Payments based on a fixed percentage of future income.
Lower (or no) payments when you're unemployed or underemployed.
Where Can I Get a Private Student Loan?
Private student loans can be obtained from various sources such as banks (i.e., Sallie Mae, Discover), fintech companies (like College Ave), or credit unions with membership requirements.
Most lenders offer a convenient online application process, with some even providing mobile-friendly applications for easy access through phones or tablets. To find the right lender for your situation, it's crucial to compare product offerings, features and benefits, as these can vary significantly.
Institutional Loans
Institutional loans also fall under the category of private student loans, excluding federal loans. Some schools have enough resources to offer campus-based loans, which may be targeted for specific groups of students based on criteria such as regional backgrounds. In many cases, institutional loans can have lower interest rates and more favorable terms compared to traditional lenders.
While not all schools provide institutional loans, it's worth inquiring whether this option is available to you, as some schools may have endowments or donors that enable this opportunity.
When to Apply for Student Loans
The ideal time to apply for any student loan is no later than 60 days prior to the start of the academic term. The FAFSA filing period begins annually on October 1st, before the start of your next academic year starting after July 1 (which FAFSA form applies to me). This means if you file as early as possible, you may find out well in advance just how much federal, state-based, or institutional aid you can expect to receive. This gives you you plenty of time to react and determine how much you may need to borrow in private loans. Your financial aid package letter will help outline this.
Every school may have its own application deadlines and other guidelines, so be sure to check with your financial aid office.
Explore zero fees, flexible repayment options, competitive rates, and more with
Discover Student Loans
.
Learn More
How to Apply for Student Loans
First, we strongly encourage you to exhaust all forms of free financial aid and federal student loans. Let's start with a quick refresher on federal loans, then we'll jump to private student loans. Starting with federal student loans means filing the FAFSA® which helps determine eligibility for grants and loans, both at the federal and state level.
For federal student loans, follow these steps: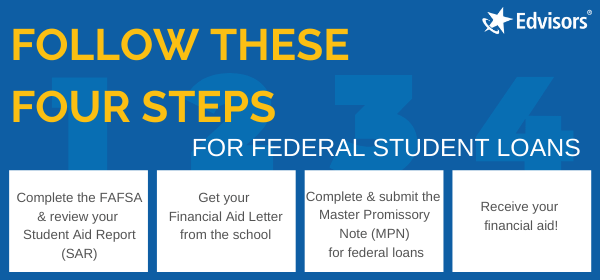 For private student loans, follow these steps: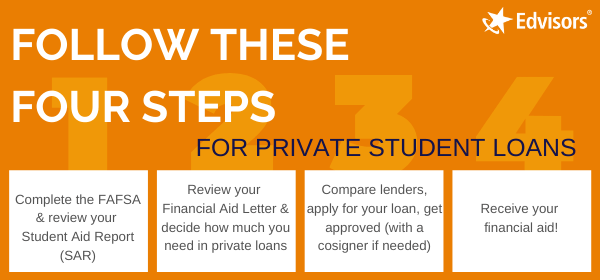 Certified Student Loans
Regardless of the loan type (federal or private), your school will need to certify your student loan. Basically this means they have to confirm your enrollment, verify your attendance meets at least half-time status, and validate the amount of money you are eligible to borrow based on all forms of aid they know you have coming in the door. In other words, they would not want to certify more money in loans than you need if you have grants or scholarships—which do not need to be repaid—coming your way.
Once you apply for a student loan and get credit approved, the lender will send information to your college or university's financial aid office so they can confirm your eligibility and the amount you need. All loan disbursements will go directly to the school.
What Can Student Loans Be Used For?
You can use student loans for education-related expenses. But that is a broad statement, so let's get more granular. Student loans should be used to cover things like:
Tuition and fees
Living expenses (i.e. room/board) which could be on-campus or off-campus housing
Text books
Computers and supplies; equipment needed for classes
Meal plans
Transportation to/from school (example: bus fare, gas)
Child care expenses
What you should not use your student loans for are non-essentials and things that do not relate to your education. For example, buying airline tickets for spring break, or buying a new car. Sometimes, there may be questions related to qualifying educational expenses. When in doubt, refer to your school's cost of attendance breakdown or talk to your school. Depending on your major or degree, or certain circumstances, some less obvious costs may be considered as qualifying educational expenses.
Compare Private Student Loans
In addition to interest rates, there are other terms, features and benefits you should review when comparing private student loans. We've outlined these considerations below, but if you want to skip ahead to see this information by lender, click here to enter your school.
Minimum and maximum loan limits – How much can you borrow? Is the lender's annual loan limit enough to cover the financing you need? This is an important consideration.
Loan terms – The loan terms basically amount to how long the loan will last and at what cost. In addition to interest rates, there could be upfront or back-end fees which may add to the expense of the loan. But there may also be perks and benefits that could help you save money over time, or could provide something else of value.
Here are some of the terms to investigate further with a lender before you sign for a loan.
Interest rate – Most lenders offer a choice between a fixed rate (does not change) or variable rates (which may fluctuate but have a ceiling).
Fees – This is something you definitely want to compare. Many lenders may offer zero origination fees up front, but beware of other fees that could be charged; including disbursement fees, processing fees, and late fees.
Repayment options – Depending on what you borrow, the repayment term can be one of the biggest factors in how expensive your loan will be over time. Some lenders allow you to choose the number of years you'd like to repay (common repayment terms are 5, 10, and 15 years). Or your lender will simply outline your repayment term based on the total amount you owe. You will also be asked if you want to pay the interest while you are in school, or defer until you are out of school. And don't forget to check on deferment options. While the options are limited compared to federal loans, a number of private lenders offer postponement of payments if you encounter a hardship. Lastly, you should look into whether or not the lender has pre-payment penalties. The lenders we work with do not charge a prepayment penalty.
Borrower benefits – Some of the benefits offered by lenders have become the norm (like an interest rate discount for auto pay, or cosigner release), whereas other benefits will be quite unique. You could be offered anything from free credit monitoring to free access to tutoring services to help you with your educational endeavors.
Another thing to consider is the protections that come with the loan. For example, does the lender offer loan discharge in the event of death or permanent disability? This is a provision that comes with federal loans, but is not offered from all private lenders.
Private Student Loan Eligibility
Eligibility for private loans is based on the following:
Citizenship status - Most private loans require that you be a U.S. Citizen or Permanent Resident. If not, your creditworthy cosigner must be. This requirement may vary by lender.
Enrollment – You must be enrolled at an eligible college or university. Some lenders offer private student loans to part-time students, meaning you may not need to be classified as 'at least half-time' in order to qualify, unlike the federal student loan program, where being enrolled 'at least half-time' is required.
Creditworthiness – The required minimum FICO® Score will vary by lender (and may change over time), but all lenders will want to see a strong credit profile that does not contain negative history, such as late payments (on items such as rent, utilities and medical bills), liens, foreclosures, bankruptcy or student loan defaults. You will also need to demonstrate proof of income and earnings history, which is why so many students (approx. 90%) need a cosigner.
School Certification – Ultimately, your college or university will need to verify your attendance and confirm that the loan amount requested is needed (based on all other financial aid you may be receiving). There may be situations where the school certifies a different loan amount than what you requested, in which case you may be awarded the lower dollar amount.
Cosigner Release
A great feature with most private student loans is the ability to release the cosigner from being jointly—and legally—responsible for the debt. This could be a great birthday or holiday present for mom or dad!
So how do you make this happen? Contact your lender (call or go online) to obtain the necessary application form. The general rule is that you need to make a minimum number of qualifying, on-time payments (usually between 12 and 24 months) to be considered for cosigner release.
And in the spirit of cosigner release, we should also note that some lenders even have programs that allow parents to transfer their Parent PLUS Loans to the student via a refinanced loan. In this scenario, the student would need to demonstrate their own creditworthiness.
Note: Refinanced loans with a cosigner may also qualify for cosigner release.
Private Student Loans Without a Cosigner
Private student loans are primarily based on creditworthiness. For this reason, most undergraduate students (or those with a thin credit profile and little to no income or employment history) will find it difficult to qualify on their own. But some lenders have developed newer products that provide opportunities for students to qualify without a cosigner. See the list of options below:
Ascent Student Loans – If you are a college junior, senior or graduate student, you may be eligible for a non-cosigned loan with Ascent.
Stride Funding Income Share Agreements – If you're a grad student or pursuing a second bachelor's degree, Income Share Agreements may be worth checking out. ISAs are an alternative way to finance your education where you get the money up front to pay for school, then you give up a percentage of your salary after school.
Compare all lenders – Of course, if you have good credit, a current income and can demonstrate employment history, you can always apply for a private student loan without a cosigner. A lot of graduate students may fall into this category, along with adult students returning to school. Many lenders today also offer a private parent loan as a more affordable alternative to the federal Parent PLUS Loan.
How Much Can I Borrow In Student Loans
You can borrow up to the total cost of attendance, minus any other financial aid you may be awarded, (your school will tell the lender how much you're ultimately eligible for in private loans).
Here you can find loan limits for federal student loans. We have comprehensive information broken down by specific federal loan type, and by academic level.
Here's how private student loan limits work. Lenders offer loan amounts up to the total cost of attendance, but lenders do have their own minimum loan amounts. They also have aggregate loan limits. While these will vary by lender, here are the ranges you can expect to see:
Minimum, annual loan amount: $1,000
Maximum, annual loan limit: Up to 100% of the certified cost of attendance minus other aid
Aggregate limits:
For undergraduates the range is around $75,000 to $120,000, depending on the lender
For graduate students and health professionals: Between $200,000 and $350,000 (higher-end limits are typically reserved for programs such as medical school, law school or business school). Again, this varies by lender.
Student Loan Tips
When it comes to taking out student loans, here are some good tips to follow.
Borrow only what you need- It may be tempting to get more money based on loan amounts you've been told you could access. But do the hard work to determine your actual budget and borrow accordingly. Consider that you may end up borrowing for each year you remain in school, including any time you spend earning an advanced degree. So you'll want to weigh the cost for all those years. Don't forget to factor in the interest!
Read the promissory note-Forgive us if this sounds patronizing, but you'd be surprised how many people sign contracts (which is what the promissory note is) without actually reading it. There are certain obligations you should be aware of as a borrower, and you want to minimize any surprises in the future.
Shop smart -When it comes to private student loans, compare the features and benefits that lenders offer, not just the interest rates.
Practice good record keeping-Whether it's digital or physical, you want to be able to quickly put your fingers on all your student loan related documents when you need them. This article on how to locate your student loans can help.
Beware of inflated student loans- If you end up borrowing unsubsidized federal loans and/or private student loans, interest accrues while you are in school that you are responsible for. You have the option to pay this interest while you are in school, but if you are unable to do so the unpaid interest will end up getting added (capitalized) on top of your principal balance (the amount you borrowed) when you enter repayment. Even if you cannot afford to pay all the interest that accrues, you can certainly chip away at it and pay a portion. Anything you pay toward your student loans while in school can help decrease the overall cost of your loan.
Think about your future- Once you've finished your studies, consider refinancing your loans) to potentially qualify for a lower interest rate, or to make monthly payments more manageable, or to simplify your student loan repayment through a single lender…or all of the above.
Enroll in auto pay- Auto pay is a great way to qualify for an interest rate reduction, and to protect your credit. If you are late on your payments, you run the risk of having a negative mark show up on your credit profile. Auto pay can not only help you save money, but it could preserve an otherwise solid credit score.
Pay twice per month instead of once- If you split your monthly payment in half and pay biweekly, this strategy actually results in one additional payment per year towards your loan. Why? Because you get a jump start on the accrued interest and end up with more of your payments being directed to your principal balance over time.