Navigating the world of student loans can seem intimidating, especially when you're dealing with both federal and private types. Federal student loans offer more repayment options and should be your first choice before considering private ones. Private student loans, offered by banks, credit unions, and online lenders, come with various terms. They often require a credit check and usually require a co-signer. However, they can offer extra financial assistance and flexibility when other aid options aren't enough. There's a multitude of private student loans available, so it's recommended to compare various options to find the one that fits your needs best.
Every student has unique financial aid needs. We work with some of the nation's best private student loan companies to help meet your needs. To help you get started, our website allows you to easily compare and shop for the best private student loan features and benefits that matter most in the short-term and the long run.
Key Takeaways
---
Private student loans can offer a great way to help fund college after all other forms of financial aid have been exhausted.
It's important to do your research and shop around for the best loan for you as terms may vary.
Factors to consider when choosing a provider include the loan's interest rate, repayment terms and other features such as deferment or forbearance options.
Compare Featured Lenders

Recommendation
Best for Private Loans
Repayment Terms
Up to four repayment types (including no payments while in school) and multiple repayment terms help you find the loan that fits your budget

Recommendation
Best for Private Funding
Repayment Terms
Payments based on a fixed percentage of future income for up to 60 months after graduation
Only pay when earning more than the $30,000 minimum income threshold.
Payments stop early if you ever hit the payment cap (2.0x your initial funding amount)
Interest Rates
Payments based on a fixed percentage of future income.
Lower (or no) payments when you're unemployed or underemployed.
Best Private Student Loan Rates
Now is a great time to take advantage of some of the best private student loans rates available. Variable APR rates start as low as 5.09% APR (annual percentage rate) and fixed APR rates start at 4.24% APR.
Private Student Loan Rates
Variable rates starting at:
5.09% APR
Fixed rates starting at:
4.24% APR
Lowest APRs shown for Private Student Loans are available for the most creditworthy applicants for undergraduate loans, and include a 0.25% interest rate reduction while enrolled in automatic payments. Interest rates as of June 5, 2023.
Federal Student Loan Rates
For loans first disbursed July 1, 2023 through June 30, 2024
Qualifying for the lowest student loan rate will depend on your credit score and history and other factors, such as proof of income. You can review our lender lineup for a comparison of competitive private student loan rates offered by our top, participating private student loan lenders. The private student loan interest rates advertised are expressed as Annual Percentage Rates (APRs) which could be either fixed APR or variable APR, and are subject to change.
It is important to understand that sometimes the lowest advertised student loan interest rate comes with conditions, such as agreeing to have your monthly payments automatically debited from your checking or savings account. So be sure to read the details (fine print). Again, the actual rate you may qualify for depends on your creditworthiness, and if applicable, the creditworthiness of your cosigner.
But How Much?
Fill out your loan details and calculate what your monthly payment will be.
Best Private Student Loan Options
There are a multitude of private student loan lenders out there, including banks, credit unions, and other financial institutions. We've assembled a list of lenders we work with whom we feel offer some of the best private student loan products on the market.
Private Undergraduate Student Loans
Most students pursuing an undergraduate degree can apply for a private undergraduate student loan. These loans offer competitive interest rates, and often come with interest rate reductions when you sign up for automatic monthly payments. Roughly 90% of undergraduate private student loan borrowers will need a cosigner.
Private Parent Student Loans
Private parent loans allow parents to assist their child in paying for college. These loans are taken out in the parent's name and are the parent's responsibility to repay. You may be able to file for cosigner release in the future if your private lender offers that option. You can also explore refinancing the loan into the student's name once the student has graduated and is employed. Our website makes it easy to compare private parent loan lenders.
Private Graduate Student Loans
Graduate students who have exhausted their federal unsubsidized and PLUS loan options, or those with a strong history of employment, may want to consider private student loan options for graduate school. You can apply for a graduate student loan with a creditworthy cosigner if you need or if you're looking for a more competitive interest rate. These loans can help fill the funding gap, and they rarely have origination or disbursement fees. You may also find more competitive rates than federal student loans (for those with a strong credit score).
Medical School Student Loans
Medical school and medical training require several years of higher education, and student loans to help cover the total cost of attendance. Medical school loans can be used to help pre-clinical and clinical education.
Dental and Medical Residency and Relocation Loans
Dental and medical students have unique situations that arise once they've finished their schooling. Many newly minted dentists and doctors must relocate to complete their residency once they graduate. Private student loans are available to help fund these moves and assist with living expenses during this time. Residency and relocation loans are not offered in the federal student aid program.
Bar Exam Loans
Bar exam loans are a product that may appeal to future lawyers. Preparation for the bar exam is time-consuming and intense. Many future attorneys prepare for the bar as if it is a full-time job. A bar exam loan can help cover the costs of living expenses, exam prep, and the costs associated with taking the exam itself.
MBA Loans
Business school can be very expensive. MBA student loans exist to help fill the funding gaps. Graduate and professional school students can borrow up to $20,500 per year in Direct Unsubsidized Loans, and MBA students should max out these loans first. MBA and professional students may also borrow from the Grad PLUS loan program to fill the funding gaps, but private student loans may offer a better interest rate and no or low origination fees.
How to Compare Private Student Loans
We've outlined how to compare the best private student loans below, but if you want to skip ahead to see this information by lender, click here to enter your school.
Interest Rates
View the range of interest rates available from the private lenders you are considering. Do they offer both fixed APR and variable APR rates? Also check for available interest rate discounts, for either enrolling in automatic payments or choosing to make payments while you're enrolled in school.
Student Loan Fees
This is something you definitely want to compare. Many private lenders may offer zero origination fees upfront, but beware of other fees that could be charged; including disbursement fees, processing fees, and late fees. Read the fine print to compare.
Minimum and Maximum Loan Limits
How much can you borrow? Private lenders have both loan minimums and maximums. Is the loan amount you need to borrow from your chosen lender enough to hit their loan minimum? Is the lender's annual loan limit enough to cover the financing you need? Loan limits are an important consideration.
Auto-Pay Discounts
Many private student loan lenders off an automatic payment discount anywhere from 0.25% to 0.50% when you enroll in automatic monthly payments. These automatic payment discount amounts may seem small, but can make a big dent in how much you end up repaying.
Repayment Terms
Many of the best private lenders offer flexible loan repayment terms and a grace period after you graduate. You won't need to make the full payments until the grace period ends. Make sure to check out the loan repayment term options your lender offers to ensure they work for you. Repayment terms are typically anywhere from 5 to 15 years. Your private lender will simply outline your loan repayment term based on the total amount you owe.
Also, you should look into whether or not the lender has pre-payment penalties. The lenders we work with do not charge a prepayment penalty.
Customer Service
Most student loans take a while to pay back. This means you will be dealing with your student loan lender for years to come. It's important to consider the customer service a lender provides prior to entering into a loan with them Our private lender reviews touch on customer service for most major lenders.
More >>> How Long Does it Take to Pay Off Student Loans?
Cosigner Release
If you are using a cosigner to qualify for the best student loan rate possible, you may want to consider loans that offer cosigner release. Cosigner release gives you the ability to apply to remove your cosigner if you meet certain conditions set by your lender.
Other Benefits
The best private student loan lenders also each offer a unique set of benefits for their products. These can include, no origination fees, cash back for good grades, easy online loan application process with a decision in minutes, no late fees, short periods of deferment or forbearance, the ability to skip a payment, flexible repayment options, automatic payments, and other perks.
Another thing to consider is the protections that come with the loan. For example, does the lender offer loan discharge in the event of death or permanent disability? This is a provision that comes with federal student loans, but is not offered from all private lenders.
What is a Private Student Loan?
A private student loan is a non-federal student loan used to help pay for college related expenses.
Essentially, private student loans are a way to help pay for school when you don't have enough federal financial aid, scholarships, and out-of-pocket money. It's pretty much that simple. Some colleges and universities will say things like, "they help cover the gap."
College Ave
student loans offer competitive fixed APR and variable APR rates for undergraduates, graduate students and parents.
Learn More About College Ave
Private Student Loan Eligibility
Eligibility for private loans is based on the following:
Citizenship Status
Most private loans require that you be a U.S. Citizen or Permanent Resident. If not, your creditworthy cosigner must be. This requirement may vary by lender.
Enrollment
You must be enrolled at an eligible college or university. Some private lenders offer private student loans to part-time undergraduate and graduate students, meaning you may not need to be classified as 'at least half-time' in order to qualify, unlike the federal student loan program, where being enrolled 'at least half-time' is required. Make sure you read each lender's eligibility criteria.
Creditworthiness
The required minimum FICO® minimum credit score will vary by lender (and may change over time), but all lenders will want to see a strong credit profile that does not contain poor credit history, such as late payments (on items such as rent, utilities and medical bills), liens, foreclosures, bankruptcy or student loan defaults. You will also need to demonstrate proof of income and earnings history, which is why so many undergraduate student loan borrowers (approx. 90%) need a cosigner.
School Certification
Ultimately, your college or university will need to verify your attendance and confirm that the loan amount requested is needed (based on all other financial aid you may be receiving). There may be situations where the school certifies a different loan amount than what you requested, in which case you may be awarded the lower dollar amount.
When to Apply for Student Loans
You don't want to wait until the last minute to apply and qualify for a student loan if you can avoid it. Getting a private student loan can take some time, so it's recommended that you start your research and get rate quotes at least 60 days before the start of your term or school year.
You should submit your loan application no later than 30 days before the start of your term. There are a few additional steps in the loan application process, including school certification, credit check, and mandatory waiting times before the loan is disbursed.
Once you've decided on which school you are attending and have had a chance to review your financial aid package from your school and federal loan offerings from the government to determine how much you need, you should start your loan application process.
Note: The information above addresses paying for college at the start of your school term, when most charges are due to the school. However, private student loans may be applied for anytime throughout the school year when additional funds are needed.
How Much in Student Loans Can You Take Out?
You first want to determine how much you need to borrow. There is a difference between how much you can borrow, and how much you need to borrow. We recommend that you wait for your financial aid letter from your school, then determine your budget for the term (or year), and then decide on the loan amounts you need to borrow and how that will affect your credit history and credit score in the long term.
Private Student Loan Limits
Minimum, annual loan amount: $1,000
Maximum, annual loan limit: Up to 100% of the certified total cost of attendance minus other aid
Aggregate limits:
For undergraduates the range is around $75,000 to $120,000, depending on the lender
For graduate students and health professionals: Between $200,000 and $350,000 (higher-end limits are typically reserved for programs such as medical school, law school or business school). Again, this varies by lender.
How to Apply for Student Loans
We can't say it enough, but you should explore your financial aid options available through the federal student aid programs first. Even though you don't need to complete the FAFSA to borrow private student loans, we recommend it. That way you can determine the loan amounts you need to borrow after you consider all financial aid and federal student loan offerings from the federal government, your state, and your school.
Apply for Private Student Loans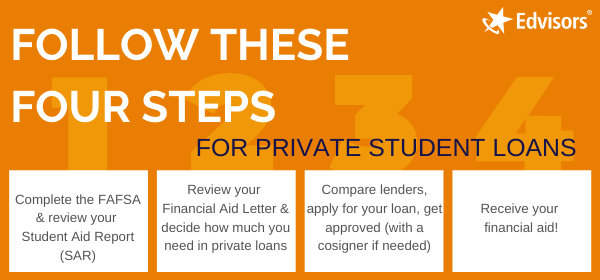 Student Loan Application
A private student loan application will ask you some of the basics, like name, address, and social security number. If you have a cosigner, they will need to provide the basics as well. Your lender will also ask you to provide information on the school you plan to attend and details about your enrollment status (like full-time, or half-time) and grade level. And finally, you will need to disclose a loan amount you would like to borrow.
You (and cosigner, if applicable) will be asked to provide financial information as well. Along with a few questions regarding your current income, they may ask you to provide certain documentation to verify your information. Carefully read what your lender is requesting, they may ask for a certain number of pay statements, or tax returns from previous years.
Many lenders have an easy loan application process which you can complete from online from your computer or phone.
Student Loan Credit Check
As part of your student loan application, you will be asked to authorize a credit check so they can review your credit history —if you have a cosigner, they will also need to authorize a credit check. Your lender will review your credit history and credit scores and may reach out to you if they have any questions about items listed on your credit report.
Credit Score Needed for Student Loan
Private student loans will require you to have a strong credit score, a good debt-to-income ratio, and to demonstrate at least two years of work history. Before the credit check, it may be worthwhile to take a look at your credit score to have an idea of how you're doing. Each lender will have their own credit score criteria, but in general, you will need a FICO ® minimum credit score of at least 660.
The stronger your credit score and the better your credit history, the lower the rate you will qualify for. If you are worried about qualifying on your own, you can apply with a creditworthy cosigner. Even if you do qualify for a private student loan on your own, you can also use a cosigner to help you qualify for better loan terms and rates.
Private Student Loan FAQs
Do I Need a Cosigner for My Private Student Loan?
You might need a cosigner if you don't earn little to no income, you have a low credit score, or you have limited (or no) credit history. A cosigner can help you qualify for a student loan. And even if you qualify for a loan on your own, a cosigner can help you qualify for better loan terms.
If you decide to use a cosigner, it would likely make your cosigner feel better if you create an agreement up front on how the student loan will be handled and repaid. For example, will you be able to pay the interest while you're in school, or would you expect your cosigner to do so? Are you choosing a lender that offers a cosigner release option? If so, make sure you understand the loan terms and conditions (i.e., number of on-time payments required and credit score requirements) so you can explain to your cosigner how you plan to qualify. It's also important to understand how loan repayment will affect your credit history, credit score and your cosigner's credit score. You may want to become enrolled in automatic payment deductions, for example, so you're less likely to miss any payments.
Bonus tip: most lenders offer an interest rate reduction (such as 0.25%) when you sign up for auto-debit.
It's not uncommon to need a cosigner as an undergraduate student. According to a MeasureOne survey, in the 2020-2021 academic year, over 90% of undergraduate students needed a cosigner to borrow a private student loan.
What is Cosigner Release?
A great feature with most private student loans is the ability to release the cosigner from being jointly—and legally—responsible for the debt. This could be a great birthday or holiday present for mom or dad!
So how do you make this happen? Contact your lender (call or go online) to obtain the necessary cosigner release application form. The general rule is that you need to make a minimum number of qualifying, on-time payments (usually between 12 and 24 months), along with meeting other criteria set by the lender to be considered for cosigner release.
And in the spirit of cosigner release, we should also note that some lenders even have programs that allow parents to transfer their Parent PLUS Loans to the student via a refinanced loan. In this scenario, the student would need to demonstrate their own creditworthiness.
Note: Loans refinanced with a cosigner may also qualify for cosigner release.
Private Student Loans Without a Cosigner
Private student loans are primarily based on creditworthiness. For this reason, most undergraduate students (or those with a thin credit profile and little to no income or employment history) will find it difficult to qualify on their own. But some lenders have developed newer products and loan terms that provide opportunities for students to qualify without a cosigner. See the list of options below:
Ascent Student Loans – If you are a college junior, senior or graduate student, you may be eligible for a non-cosigned loan with Ascent.
Stride Funding Income Share Agreements – If you're a grad student or pursuing a second bachelor's degree, Income Share Agreements may be worth checking out. ISAs are an alternative way to finance your education where you get the money up front to pay for school, then you give up a percentage of your salary after school.
Compare all lenders – Of course, if you have a good credit history and credit score, a current income and can demonstrate employment history, you can always apply for a private student loan without a cosigner. A lot of graduate students may fall into this category, along with adult students returning to school. Many lenders today also offer a private parent loan as a more affordable alternative to the federal Parent PLUS Loan.
How Long to Get Approved for a Student Loan?
Once you complete the loan application, depending on your lender, you may be immediately approved, or it make take a few days or longer. Even if you don't receive an approval right away, most lenders will confirm that your loan application has been submitted. Sometimes additional information or documents are required before a full credit approval can be provided. Or in some cases, the lender will encourage you to add a cosigner.
If you do not hear from your lender within one week, you may want to call and check the status of your loan application.
School Loan Certification
Regardless of the type of student loan you apply for, your school will need to certify the loan amount you want to borrow. Your lender will communicate and work with your school directly. Basically, your lender will need to make sure your private student loan will not exceed your school's total cost of attendance minus all other financial aid received.
How are Private Student Loans Disbursed?
Regardless of the type of student loan you apply for, your school will need to certify the loan amount you want to borrow. Your lender will communicate and work with your school directly. Basically, your lender will need to make sure your private student loan will not exceed your school's total cost of attendance minus all other financial aid received.
What is the Difference Between Federal Student Loans and Private Student Loans?
Here are some of the key differences between Private Student Loans and Federal Student Loans:
| | | |
| --- | --- | --- |
| Loan Type | Private Student Loan | Federal Government Student Loan |
| Loan Lender | Banks, credit unions, financial institution, state agency, or college/university | U.S. Department of Education |
| FAFSA Required? | No | Yes |
| Interest Rate Type | Fixed APR and variable APR options available | Fixed APR |
| Rates Based on Credit Criteria? | Yes | No |
| Cosigner Required? | Yes, unless borrower has strong credit score | No* |
| Loan Repayment Plans | Varies by lender. Some lenders may offer multiple options. | Multiple repayment plans (including income-driven) available |
| Forbearance Options | Varies by lender. Typically one year. | Three years |
*Direct PLUS Loans offered to parents of students attending college, or graduate students, require a credit check. If the borrower is found to have adverse credit history or a low credit score, a cosigner may be required.
How Do I Find the Best Private Student Loan Lender That Works with My School?
One method is to enter your school here. You will be presented with a list of our private lender partners who work with your school. If you have any additional questions, or would like to seek additional options, it would be best for you to contact your school's financial aid office.
Can I Get a Private Student Loan Without a Cosigner?
90% of undergraduate students and 60% of graduate students need a cosigner to get approved for a private student loan. Some undergraduate and graduate students may have the credit score qualifications to get approved without a cosigner. It all depends on your credit score and credit history.
Different lenders have different qualifying criteria. To determine eligibility, it's best to contact a potential lender directly.
How Long Does it Take to Get a Student Loan?
The exact amount of time will vary by lender, school, and time of year. Generally, the process can take as little as two weeks and as long as two months. Since the loan funds will be sent directly to your school, any money left over after the school applies your loan to your account will be refunded to you. Compare student loan lenders now.
How Much Can You Get In Private Student Loans?
Private student loan lenders, generally, will not let you borrow money in excess of your school's cost of attendance. Your school will let you know the maximum loan amounts you can borrow in a private student loan, which will be determined by subtracting all the aid you have been awarded/accepted from your total cost of attendance.
When Can I Apply for a Private Student Loan?
Private lenders accept and process private student loan applications throughout the year. You may apply at any time.
Can I Get a Student Loan with Bad Credit?
Having a bad credit score or adverse credit history won't necessarily disqualify you from getting a student loan. Some loans are not based on credit. For example, you may be able to borrow federal student loans, as most federal student loans don't factor in credit history.
More About Private Student Loans
Private Student Loan Interest Rates
Private Student Loans and Credit
How to Pay for Pharmacy School
Private vs Federal Student Loans
Medical Residency and Relocation Loans
Dental Residency and Relocation Loans