In today's world, there are multiple ways to define credit, but typically it comes down to a written agreement where one party (the borrower) borrows money from another party (the lender) with the understanding that the borrowed money will be paid back at a later date, typically with interest. A person's use of credit and repayment behavior is typically reviewed by a lender when determining the creditworthiness (the expected reliability to repay the money on time and in full) of a borrower.
How does Credit Work?
Credit is a tool in your financial toolbox that helps you get what you need right now when you may not be able to fully pay for it. Using credit typically comes with the written promise that you will pay for it over time with interest. This means that whatever you buy with credit will essentially cost more to you if you use credit, than if you simply paid cash for it. People who regularly use credit responsibly, will have what is considered "good" credit, and will find it easier to be able to borrow money whenever the need comes.
Someone's ability or inability to pay back their debts (or credit reporting) has been around since the early 19th century. Today we use what is known as a credit report to determine what kind of borrower you are, and this report gives lenders an idea of what your overall credit history looks like. Different financial groups (such as your bank or credit union, credit card company, student loan and/or mortgage holder) voluntarily share your repayment and borrowing information with credit bureaus such as Equifax®, Experian®, and TransUnion®. This helps potential lenders make decisions whether or not they want to lend you money and if so, what kind of terms and conditions they should offer you based on the amount of risk they will be taking on working with you.
Reports are comprised of:
Payment History—over the past seven years, did you make payments on time, late, or did you miss any completely?
Amount Owed—how much money do you collectively owe on all of your credit accounts? This will look at your student loans, car loans, mortgages, private loans, credit cards, and measure it against your credit utilization (what percentage of your available credit did you use? Try to keep this to 30% or less)
Credit History Length—how long have you had open lines of credit? Credit cards, even if you don't use them regularly, and installment loans such as student loans can help establish a strong credit history length.
New Credit—if you have opened a lot of new accounts (i.e., new credit cards, taken out a new car loan, etc.) in a short time span, your credit score might go down as it could indicate to potential lenders you are having difficulty paying for things. If you are hoping to take out a loan or mortgage in the near future, try to limit the number of lines of new credit you open.
Variety of Credit—what kinds of credit do you have? A combination of revolving credit (credit cards and student loans can positively show you can manage multiple types of credit
Your credit report is condensed into your credit score. Different groups such as Equifax, Experian, and TransUnion can score your credit differently, but overall they give higher scores to those who are statistically more credit worthy. A popular model is the FICO® Score which ranks borrowers on a 300-850 scoring system. FICO® Scores break down as follows: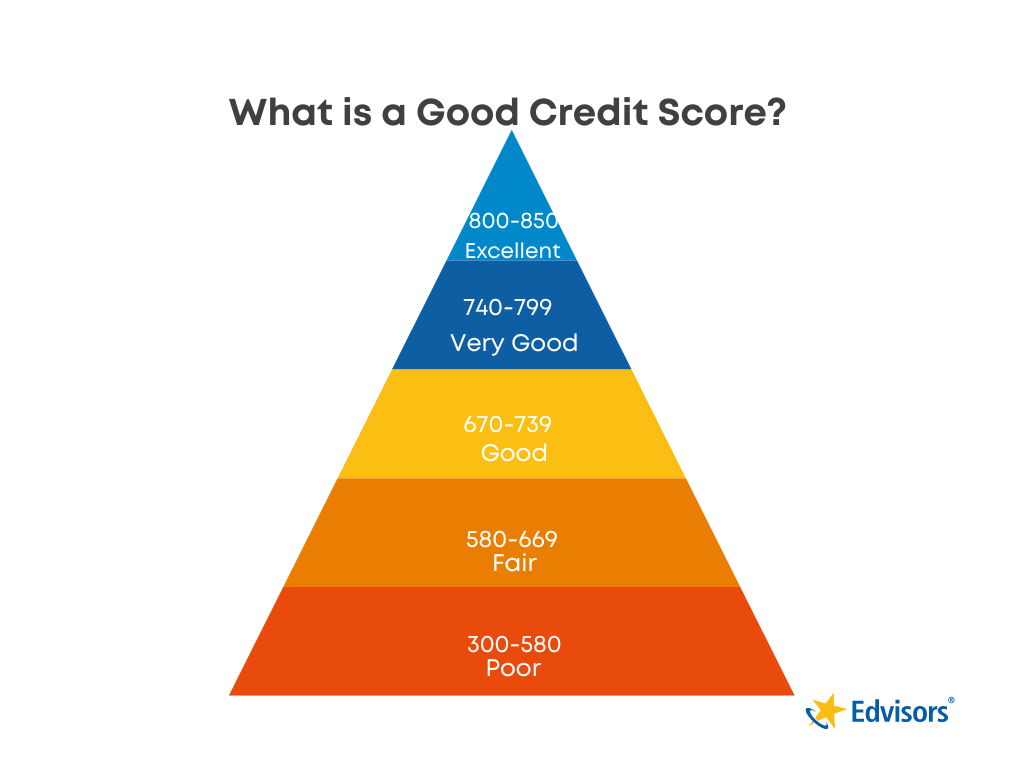 Higher credit scores will enable you to receive lower interest rates and better loan terms, since they will consider you are a lower risk to lend to. Lenders will see you as a dependable and responsible borrower. FICO® reported as of August 2022, the average credit score was 716. For those aspiring credit overachievers, know that only about 1% of all scores reach 850.
Build credit. Build dreams. All Credit Scores are Welcome!
It's time to take control of your credit score. Don't let your credit be an obstacle to the possibility of a great personal loan offer -
Try Self
!
Sponsored Ad
Why is Credit Important?
Your credit allows you to meet your financial goals as you progress through life. Having good credit is important because that is what enables you borrow money easier than those with poor credit. Your credit level will also determine how much the lender will allow you to borrow, and what kind of interest rate they will give you. Lower interest rates (for those with good to excellent credit) will mean you may be able to have lower monthly payments and end up paying less in interest.
Good credit can also help you get the loan or lease on the car you've been eyeing. It can help you get a mortgage with a lower interest rate. It can help you get an unsecured credit card with a lower interest rate and possible more perks. It may also help you lower your insurance rates (depending on your state), and landlords may ask to run your credit to screen potential renters.
2 Most Popular Types of Credit
When it comes to credit, there are different ways to borrow money based on your situation and circumstances. It's important to have a combination of various types of credit on your report as it can positively impact your credit score. However, it's crucial to be responsible with borrowing and avoid using credit that you'll struggle to repay just for the sake of having multiple credit lines. Take your time to build your credit gradually.
Installment Loans
Installment loans allow you to borrow a specific amount of money that must be paid off within a certain agreed upon period of time, usually through monthly payments. You will also have to pay any interest and/or fees in addition to the initial (or principal) amount of money. Some installment loans you may be familiar with are:
Student loans
Car loans
Home loans (mortgages)
Personal loans
Revolving Credit (Credit Cards)
Credit cards (also known as revolving credit) give you a maximum amount of money you can borrow (credit limit) and you are able to make purchases up to that limit. For any money you use, you agree to make a monthly minimum payment that is a combination of the money you borrowed plus interest. You can save money, if you pay off your credit cards in full each month to prevent interest from being applied to your balance. If you do happen to only make minimum payments, the remainder of the balance will continue to the next month's statement and that outstanding amount leftover will be charged interest along with any new charges made during the month.
How to Build Credit
Building credit can sometimes seem counterintuitive, as you often need credit to establish credit. Contrary to popular belief, having a bank account is not always a necessity. By consistently making payments on installment loans like student loans, you demonstrate responsible borrowing habits that positively impact your credit score. Moreover, student loans contribute to the average age of your accounts and diversify your credit mix, further bolstering your creditworthiness.
The following chart shows what impacts your credit score and how much of an impact it has on your overall score: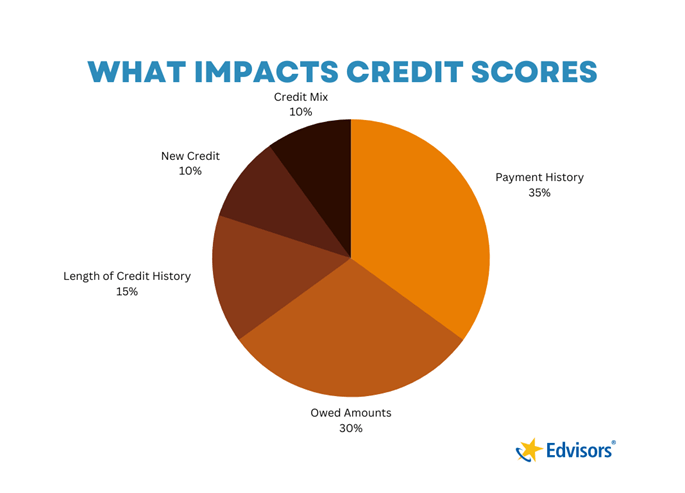 Building Credit from Scratch
If you don't have any credit at all and you want to build some, you may need a little assistance from a trusted family member who already has strong credit. Ask to become an authorized user on their account and allow their good credit to rub off on you! Even if you don't use the account, just by being associated with their good credit will help grow your credit.
If being listed as an authorized user on someone's account isn't an option think about using a cosigner. You can apply for a credit card, car loan, or student loan with a responsible cosigner. A cosigner agrees to be legally responsible for the loan and pay back the money borrowed if you are unable to do so. Having a cosigner helps you qualify for loans that you may not be able to qualify for on your own.
If you are unable to get a credit card due to bad credit or no credit, try applying for a secured credit card. With a required upfront deposit, lenders will have the ability to use your deposit to cover your charges, if you don't make your payments. This allows you to establish positive repayment behavior on your credit report and will help you build your credit score over time.
Read More: Best Credit Cards for Students
Building Stronger Credit
You may already have some credit established but would like to improve your current score. Keeping your score high has many benefits, but it is up to you to be aware and responsible for your overall financial health. If you're looking to better your credit, it begins with your financial habits. The following tips will help you to be a more desirable borrower and improve your overall credit score:
Pay your bills on time; if you are unable to make your payment in full, call and set up a payment plan prior to a bill being sent to collections (this is one of the biggest factors in determining your credit score)
Keep your credit card usage (or credit utilization) to under 30% of your available credit
Look over your credit report at least once a year to monitor for any suspicious activity such as fraud, identity theft, or other financial scams; using annualcreditreport.com gives you access to your free credit reports
Review your monthly payments often and dispute any charges you don't believe are accurate
Keep your credit accounts open, even if you no longer use them (unless you experience high fees, or poor service) as they can help the average age of your credit
Credit is a valuable part of your financial well-being. Making smart and careful decisions can impact you now as well as impact the choices you will be able to make in the future.