FAFSA Will No Longer Share List of Colleges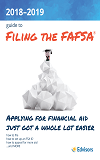 Take the guesswork out of filing the FAFSA.
The U.S. Department of Education will no longer share the list of colleges on a student's FAFSA (Free Application for Federal Student Aid) with the colleges, starting with the 2016-2017 FAFSA.
Previously, colleges could see the full list of colleges on a student's FAFSA. Most students listed the colleges in preference order, listing their first choice college first. Recognizing this, some colleges may have been using the order in which the colleges were listed to influence college admissions and financial aid decisions. For example, students are much less likely to enroll in a college that isn't listed first, second or third. So, a college might decide against admitting the student in order to improve the college's selectivity.
To obtain approval from the Office of Management and Budget (OMB) of the "information collection activity" associated with the FAFSA, the U.S. Department of Education published a request for public comment in the Federal Register on August 12, 2015. This request for public comment was accompanied by a draft of the 2016-2017 paper/PDF version of the FAFSA and a summary of changes to the FAFSA on the Federal eRulemaking Portal.
In particular, the change summary indicates that colleges will no longer receive the list of colleges submitted by students on the 2016-2017 FAFSA. The list of colleges, however, will still be submitted to the state in which the student resides so that they can evaluate a student's eligibility for state grants. Some state grants are restricted to students who enroll at one of the state's public colleges. In some cases, one of the state's public colleges must be listed first on the FAFSA.
This is the text of the relevant change in the 2016-2017 FAFSA.
Amended the informational text for Step 6 to read: Enter the six-digit federal school code and your housing plans for each college or school you wish to receive your FAFSA information. You can find the school codes at www.fafsa.gov or by calling 1-800-433-3243. If you cannot obtain a code, write in the complete name, address, city and state of the college. All of the information you included on your FAFSA, with the exception of the list of colleges, will be sent to each of the colleges you listed. In addition, all of your FAFSA information, including the list of colleges, will be sent to your state student grant agency. For federal student aid purposes, it does not matter in what order you list your selected schools. For state aid, you may want to list your preferred college first. To find out how to have more colleges receive your FAFSA information, read What is the FAFSA? on page 2.