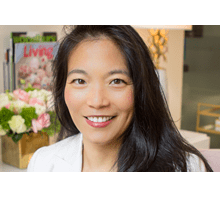 Graduating from college is an incredible feat, but many graduates experience financial anxiety as they contemplate life after college. It's wonderful to graduate college, but if college leaves you with student loan debt, uncertainty about finances can cause a great deal of stress.
According to the American Association of University Women, women hold almost $929 billion in student debt, that's more student debt than men. In response to this alarming stat, we interviewed Georgene Huang, CEO & Co-Founder of Fairygodboss, the largest career community for women.
Huang addresses the financial stress that recent college graduates experience and ways to combat that anxiety. Additionally, Huang provides sound tips for women on the job search who want to be compensated in all aspects of their job.
Is financial anxiety a common feeling among recent female college graduates?

Financial anxiety is a common feeling among almost all college graduates. Approximately 70% of college students graduate with debt and the current loan debt stands at around $1.6 trillion in the U.S.

How should a new graduate approach the job search if they have student loan debt?

It's crucial to do the math and figure out what your monthly expenses are going to be so that you have an idea of where you should look for a job and the lowest salary you'd be willing to accept.

For example, if you're looking for a job in a field where the average starting salary is $32k annually and you estimate that living on your own will cost $25k (rent, food, utilities), you only have around $7k of additional funds to use for extra activities and paying down your loans.

For some individuals that may be enough for them to be able to pay down their loans while maintaining the lifestyle they want, but you should determine this before you even start your job hunt. In addition, look for employers that will offer to pay off your student loans. Since unemployment is currently low, companies are on the hunt for the best talent and will offer competitive benefits to get the candidates they want.
Tips for Fresh Graduates Seeking a Job
So now it's time to find that job. Georgene shares some top tips for women entering the job market.
How to negotiate a salary? How do you determine your own worth?

Do your research for the job you're interviewing for to determine what salary you think is fair. Use sites like PayScale, Fairygodboss, and Glassdoor to compare salaries for different titles, locations, and companies to find an accurate number. Use this information to back up your counteroffer, but be sure to keep benefits in mind when you do so.

For example, if one offer includes student loan repayment and a slightly lower salary while another offers no student loan repayment and a higher salary, take that into account when determining what counteroffer you're going to propose.

How to find out if there are any benefits to assist with student loan repayment?

First check the company's website to see if they mention anything about student loan repayment on their careers page.


If you can't find that information on their website, check out employee review sites like Fairygodboss or Glassdoor to see if their benefits are listed or if other employees have mentioned student loan repayment.


Finally, if you're really interested in the company and go in for an interview, ask your interviewer if student loan repayment is a current benefit being offered.
Choosing a Job
How do you make this decision? Based on pay, benefits, etc.

Accept the job that's right for you! While the salary and benefits that a job offers are crucial, it's still important to pay attention to the company culture and ensure that you can see yourself working at a company you like and with people you enjoy.
The need to land a job that will cover living expenses and loan payments becomes more evident when there aren't any more classes to take. Huang's response to this common post-graduation reality is that financial anxiety can be managed with a plan.
Graduates who budget can get a grasp on what salary and benefits package they should search for as they look for jobs. In some cases, graduates may be able to get student loan repayment as a benefit on the job. The goal is to plan because graduates who do may be able secure a comfortable lifestyle while paying off their student loan bills.
It can be done.