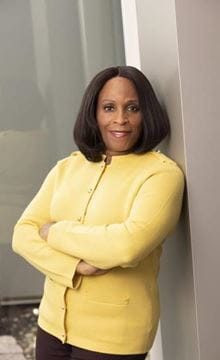 To celebrate Black History Month, we interviewed Donna Vieira, Executive Vice President and CMO of Sallie Mae. In the interview, Vieira touches on the significance of Black History, her career journey, and advice she would give young adults pursuing their dreams. Vieira shows us that courage and diligence can have a strong impact on accomplishing one's dreams.
Is there someone from Black History that has had a tremendous impact on your life? What did you learn from her/him?

All of our great ancestral patriots have had an enormous impact on my life. Their struggles have paved the way for my success today. I stand on the shoulders of giants. When I think about Harriet Tubman or Rosa Parks, I am inspired by their courage, boldness, and absolute refusal to accept they can't.

For our audience members that may not be familiar with your background, can you share how you got your start in consumer lending and marketing?

Mine is an immigrant story. I moved to the US permanently after receiving my undergraduate business degree in Canada and got my first job as a credit analyst at USA Today. And by sheer grit and determination, I began to network and talk to anyone who would listen about my career aspirations. I was very lucky to have the right people take a chance on me.

My career really took off when I got into the advertising business, working on major consumer businesses that provided the foundations to propel my career forward to successful careers at major financial corporations.

Given your role as Executive Vice President and CMO of Sallie Mae, you help to make educational dreams a reality for students. What do you think is the biggest barrier today for African Americans and people of color seeking a higher education?

I always say that Sallie Mae is ultimately in the business of building prosperous futures and that is for everyone. As African Americans, we share the same hopes and dreams for our children's success in higher education and beyond. Like other cultures, we understand that education is often the foundation and pathway to that prosperous future. Universally, we know that financial literacy is paramount.

One of the biggest barriers is how to effectively plan for the higher education journey so you have the best outcome. Education is a significant investment and like any other investment effective planning and, most importantly, completing gives you the best returns. Also, how to effectively fund the journey is critical.

Always start with free money first, before borrowing. There are many scholarship and grant programs that provide funds that you don't have to pay back. Also, outcomes matter. Ensure your course of study can lead to productive employment. This advice is not unique for African Americans but, since many of our families have first generation students, these issues can be magnified.

How do they overcome those issues, in your opinion?

There is not one simple answer but a good start is to become a more informed consumer. Understand the choices you have and how the choices you make today impact your tomorrow.

In celebrating Black History Month—which is part of American history— why is it important to encourage diversity around the world today?

I pray for the day when we no longer have to speak about diversity and keep explaining why it's important. For me it's simple; it's the right thing to do. It is a fact that our different cultures, ethnicity, and thought processes brought together unleashes greatness. We don't need more studies to tell us what we already know so let's get to it.

Is there a personal or professional accomplishment you are most proud of as a woman, or woman of color?

I am proud of all that I have accomplished -- the collective body of my career so far, and how much more I am determined to do. The road has not been easy, but that's the joy in it, and it has been a team sport. I could accomplish none of it without my rocks – my faith; my family, and inspiring mentors combined with my sheer grit and determination.

Did you have a mentor to help you achieve your success, and how important is it to have mentors and sponsors in one's life?

I've had, and still have today, my personal board of directors, many of whom have known me from early on in my career. I can't say that I have sought formal mentors. My personal board, who are so crucial to my career success, include family, former managers, and colleagues whom I've worked with across the span of my career.

What advice would you give to young adults today who view you as a role model?

Be bold in all that you do and know that your voice matters. Most importantly, don't ever dim your light so another can shine – so shine on.

Finally, what was the biggest barrier you faced when completing your education? And would you tell your younger self something now that would help her deal with times of struggle?

The biggest barrier for me was believing that I can and I am worthy. I always worked hard and knew that I am smart, but believing it in my gut was more difficult than I thought it would be.

I am in a position daily to speak to my younger self, as she's now my soon-to-be college graduate daughter. I tell her every day that she is worthy, she is enough, and the first person she needs to fall in love with each day is herself.