The content and opinions provided on this site have not been provided or commissioned by any issuer of the financial products and/or services appearing on this site. The content and opinions have not been reviewed, approved or otherwise endorsed by an issuer. Offers may be subject to change without notice. For more information, please read our full disclaimer.
Private student loans offer current rates as low as 5.09% to 14.50%. Click here to find a preferred lender.
Which do I tackle first? There is no easy, one-size-fits-all answer to this one. Simply put, it depends. There are many items to consider when coming up with any debt repayment strategy. You have to be sensitive to both your current budget and your future financial goals. This article will shed some light on the pros and cons of student loan vs. credit card debt, and hopefully help you apply the right repayment strategy for your specific situation.
Let's examine the two different types of debt, by starting with student loans.
Student Loan Debt
Affordable Interest Rates
Compared to credit cards, student loans carry a much lower interest rate on average. This means if your loan balance is roughly the same as your credit card balance, you'll pay less total interest over the life of your student loan than you would on your credit card. Making the minimum payment on your student loan while paying that high-interest credit card off quicker can save you money in the long run.
Interest Paid is Tax-Deductible
Student loan debt is something the government sees as an investment in your future. If you meet the qualifications, you may be rewarded with a tax deduction for interest paid (up to $2,500) on your student loan throughout the year.
Student Loans are not Dischargeable in Bankruptcy
Both
federal and private student loans
are practically impossible to discharge in a bankruptcy proceeding. This means student loan debt is likely to be a part of your life until it is completely paid in full.
Some Student Loans Qualify for Forgiveness
It is true that certain borrowers may qualify for forgiveness programs, such as
Public Service Loan Forgiveness
which could pardon your remaining student loan debt after 120 monthly, qualifying payments. But did you know that if you were enrolled in a specialized repayment plan, such as
Income-Based Repayment
, the remaining balance of your qualifying student loans could be forgiven after a period of 20 or 25 years?
Employers May Offer Student Loan Repayment Assistance
It's unlikely you will find an employer willing to pay your credit card off for you, but a growing number of employers are offering student loan repayment assistance. Check with your HR department to find out if this option exists at your place of employment and what the qualifications may be. You may even want to factor a benefit like this into your job hunt.
Credit Card Debt
A Good Way to Build and Boost Your Credit
Because credit cards are a revolving credit line—and payments are due pretty much immediately upon use—your card issuer begins reporting your payment history to the credit reporting companies (like Experian, Equifax, and TransUnion) right away. This may have already helped you establish and build a solid credit profile faster than any of your student loans. So keeping your
credit card in good standing
(and preferably paid in full each month) is an excellent long-term play for your FICO® or VantageScore®.
A word of caution: it is better to pay the balance in full and not close your account than to formally close a credit card. Having an open, available line of credit that you don't use can actually help your credit score.
Late Fees
Missing a payment on a credit card can (and often does) result in late fees. These fees can add up, and sometimes are even more than the minimum payment that was due. Keep this in mind when using plastic to cover expenses.
High Interest Rates
Credit cards tend to have higher interest rates than student loans. According to creditcards.com, the national average interest rate for credit cards is 16.06% (as of 7/25/2017). Interest rates for federal and private student loans tend to be significantly lower.
TIP: If you were thinking of using a credit card to pay for tuition or other school related expenses, check out our article Should I Pay My Tuition With a Credit Card. And remember that private student loans not only offer competitive interest rates, but the funds can be used for more than just tuition. Private student loans can help with housing, transportation, laptops, books, and more. So explore all of your options before you default to using your card.
Repayment Strategies
Set Your Credit Card Bills up on Autopay
To avoid late fees when carrying a balance on your credit card, consider setting up an automatic payment for your account. While you can pay more monthly if you have the funds, an automatic payment will ensure your bill gets paid on time each month.
Sign-Up for Auto-Debit for Your Student Loans
Most lenders offer a discount for borrowers who enroll in automatic debit. Discounts generally range from 0.25% to 0.50%. On a balance of any amount, but particularly high student loan balances, these small discounts can add up to big savings.
Pay More Than the Minimum
If you pay only the minimum on any debt, it will take longer to pay off and you will pay more in interest over time. Adding as little as five or ten dollars per month to the minimum due can make a noticeable difference in what you pay in interest over the life of the debt. Not only will you get out of debt quicker, but you will save money doing it. According to Andrew Thrasher, CMT and Portfolio Manager with Financial Enhancement Group, LLC, "You want to make sure at least minimum payments are being met on all debt. If a payment gets missed then even more problems and headaches can occur."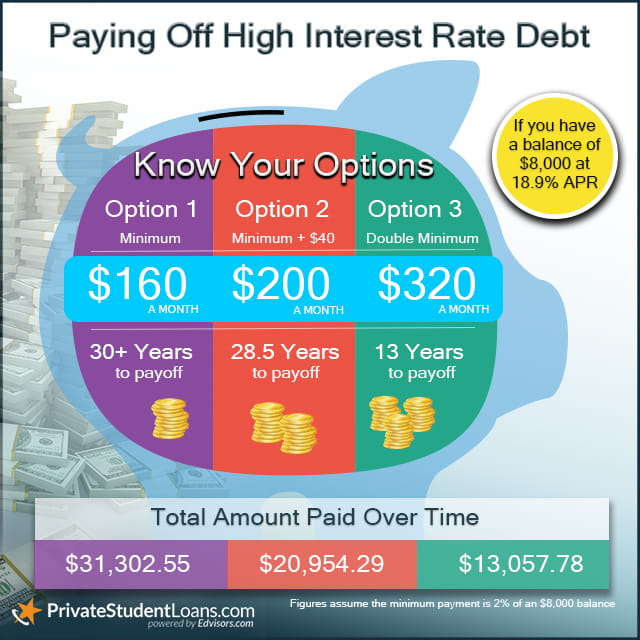 Assess Your Debt and Prioritize Repayment
There are a few different ways to approach debt. You may choose to pay off your highest interest rate debt first, putting all your extra available funds toward that debt (while maintaining minimum payments on everything else). This will save you money on the interest you pay overall.
Another popular approach is to pay off your debts from smallest to largest. This can help you eliminate smaller debts altogether, giving you the psychological boost by conquering your debts and crossing them off your list. Once one debt is paid off, take the amount you were paying on that debt and add that to the payment for the next debt on your list. You might not save as much mathematically, but this theory can create a lot of momentum and keep you focused on your goal.
Another option for making debt more manageable is student loan consolidation or private student loan refinance. Check out StudentLoanConsolidator for more information on federal and private student loan consolidation, to see if one of these options is right for you.
Whatever strategy you choose, having a strategy is key to not becoming overwhelmed.
Compare Featured Lenders

Recommendation
Best for Private Loans
Repayment Terms
Up to four repayment types (including no payments while in school) and multiple repayment terms help you find the loan that fits your budget

Recommendation
Best for Private Funding
Repayment Terms
Payments based on a fixed percentage of future income for up to 60 months after graduation
Only pay when earning more than the $30,000 minimum income threshold.
Payments stop early if you ever hit the payment cap (2.0x your initial funding amount)
Interest Rates
Payments based on a fixed percentage of future income.
Lower (or no) payments when you're unemployed or underemployed.