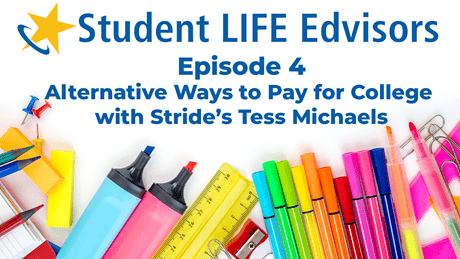 Alternative Ways to Pay for College with Stride's Tess Michaels-Podcast Episode 4
In this episode we interview special guest, founder & CEO of Stride Funding, Tess Michaels! She stops by to talk with Elaine & Tré about alternative ways to pay for college. Learn all about ISA's and her journey helping student pay for school & more!
---
April is Financial Literacy Month!
Finances can be especially stressful if you're just getting started. While many learn the hard way through trial and error, we explain some common pitfalls to help you avoid them...without learning the hard way.
Read more on how to be financially smart!
---
How to Pay for Law School
There are options to help pay for law school such as scholarships, grants, federal and private student loans. We explain all these options so you can determine how you will pay for law school.
Student Loans for Parents
As students and families are interpreting their award letters, many parents are finding they need to take out additional loans to pay for college. Compare the benefits of parent PLUS Loans.
Understand how to help your student pay for college
---
Should I Pay Off My Student Loans?
With the student loan pause extended until August 31, 2022, you may be wondering, should I pay off my student loans while federally-held student loans are on an administrative forbearance with 0% interest? Learn how this will affect you.
Understand the ins and outs of current student loan events
---
Most Popular Scholarships for College Students in 2022
Popular scholarship can be very generous. Students with the qualifications should apply for these awards knowing that the competition with be significant.
Read on for popular scholarships
Easy Scholarships to Apply For
There are easy scholarships for college that require no essay, no interiew, and aren't dependent on FPA. Check out these college scholarships that are easy to apply for!
Find easy to apply for scholarships
---
Art Scholarships
Christopher's Poster Contest
CBC Spouses Performing and Visual Arts Scholarship
Ocean Awareness Contest
---
April Scholarships
$1,000 Cerebum Scholarship
$1,000 Empire Scholarship
$1,000 Fortuna Scholarship