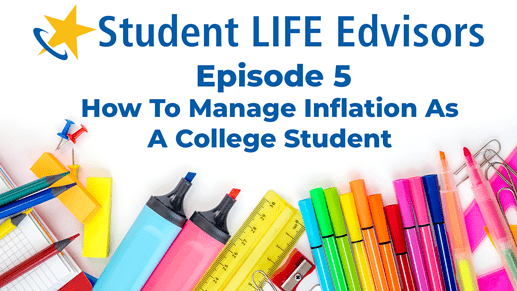 Inflation & How To Manage It-Podcast Episode 5
In this episode, Elaine & Tré touch upon the recent rise in prices and their impacts to students. They share ideas on how to save money & manage your budget during these challenging times.
---
Financial Aid Appeal: How to Get More Financial Aid
You received your financial aid offer letter from your school, and it's just not enough to help cover your college costs. In this case, you do have the option to file a financial aid appeal (also known as a special circumstance appeal).
Read more to learn how to get the funds you need!
---
How to Get a Student Loan
Wondering how to get a student loan? The first step is to fill out the FAFSA.
What to Do in a Gap Year
Taking a gap year from college and not sure how to spend your time?
Understand your gap year options
---
The Financial Impacts of the Ukrainian and Russian Conflict
As a college student, or future college student, you may be worried about the Ukrainian and Russian conflict. The world is worried, and turning on the news, or scrolling through social media, has created a sense of uncertainty among us. Not only has the conflict caused heartache for the tragedies abroad and mental health concerns, but it also brings up the discussion about financial impact here at home.
Understand how you may be impacted
---
College of your Dreams or College of Your Means?
The decision of which college to choose can be emotionally charged, especially once costs are factored into the equation.
Alternatives to College
Earning a four-year degree is not for everyone. We've assembled a list of options for students looking for alternatives to a university education.
Find alternative options to college
---
Athletic Scholarships
Augustana Athletic Grant
Gator Bowl Charities Award of Excellence Scholarship
Niagara University Athletic Scholarship
---
May Scholarships
$1,000Carpe Diem Scholarship
$1,000 Supra Scholarship
$1,000 Ursa Major Scholarship