Register now for the 2019 web summit Your College Fast Pass: Making the Process Epically Easy, brought to you by Get Ahead of the Class. This free, online three-day summit will be from Nov. 19-21. Ask the Edvisor® and financial aid expert, Elaine Rubin will be featured in an interview discussing What You Need to Know About Student Loans.
Student Loans are a reality for many, but you really need to know what you're up against and all your options before you decide to borrow. Between federal and private options, do you know what each one has to offer? Tune in to hear Elaine break it down.
To register is free, but space is limited! To register, please go to: https://www.getaheadoftheclass.com/a/18737/bxj6Ldzc
Your College Fast Pass: Making the Process Epically Easy sessions include:
Expert Alec Bianco, Director of Homeschool Partnerships at Classic Learning Initiatives discusses What is the CLT exam? Who should take it? How does it differ from the ACT and SAT?
Expert Julie Kim, Harvard graduate college consultant discusses How to stand out (the easy & smart way) so you are accepted into your dream Ivy League & Top-tier University
Expert Brad Schiller, Co-founder and CEO of Prompt, nationally recognized college essay expert discusses the Parent Guide to the College Admissions Essay. How to prove your student will be successful in college and beyond
Expert Shaan Patel, Founder and President of Prep Expert and Shark Tank winner discusses Test prep tips and changes to come
Expert: Kimberly Hobscheid, International Public Speaker, Best Selling Author, Audiobook Producer, and 6-time Serial EntrepreneurYes! You need a resume! discusses What qualifies as Leadership
Expert Nick Dukoff, Founder/CEO of Edmit discusses Better off after college: A Guide to Paying for College With More Aid and Less Debt
Plus additional interviews about Resumes, Interviews, Scholarships, Marketing your teen, FAFSA, CSS Profile™, Student Loans…And much more!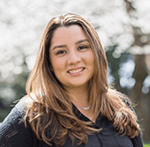 About Elaine Rubin
Elaine Rubin is the Senior Contributor and Communications Specialist at Edvisors. Ms. Rubin is responsible for maintaining content, responding to press and media inquiries, as well as serving as the lead contributor for the Edvisors blog and the Ask the Edvisor column. Ms. Rubin volunteers in the local Las Vegas community to help students and families understand the importance of education for success. Ms. Rubin has worked in higher education finance for more than 10 years, including seven years with the U.S. Department of Education's office of Federal Student Aid, and provides information and advice from both personal and professional experiences. She holds a Bachelor of Arts degree in Political Science with a concentration in Public Policy and Administration from Northeastern University.
About Edvisors
For more than 20 years, Edvisors has helped empower students and families with the information they need to make timely decisions about planning and paying for college, as well as life beyond graduation. Edvisors free resources, tools and services are both expert-level and engaging, drawing from our expansive team experience in the higher education space as lending specialists, financial aid authorities, and public service leaders. Every year, millions of students and their families turn to the company's flagship site, Edvisors.com, for timely, accurate information, advice and tools that help them confidently make the best decisions about paying for college. Additionally, Edvisors owns ScholarshipPoints.com, where students earn points and enter scholarship drawings (the site has awarded about $1 million to date); PrivateStudentLoans.com, which helps borrowers find private loan solutions during school and in the refinancing stage, and StudentLoanConsolidator.com which provides repayment solutions for student loan borrowers seeking private student loan refinance. Founded in 1998, Edvisors is based in Las Vegas, Nevada. More information can be found at www.edvisors.com.

###
Press Inquiries
Edvisors Network, Inc.
702.777.8467