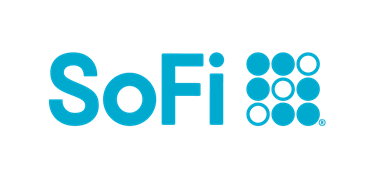 SoFi Student Loan Refinancing
Are you looking to refinance your federal and private student loans? Learn how refinancing with SoFi can get you access to the savings, convenience, flexibility, and member services you deserve.
Features & Benefits
Flexibility:
Convenience: Borrowers consolidate all their loans – federal and private – into one loan with one bill
No Fees. No Catch:

No origination fee, prepayment penalty, or other hidden fees
Minimum Eligibility Requirements
Minimum loan amount of $5,000
US citizenship or permanent residence is required
Graduated from a SoFi eligible school
---
1Fixed rates range from 4.49% APR to 8.99% APR with a 0.25% autopay discount. Variable rates from 5.09% APR to 8.99% APR with a 0.25% autopay discount. Unless required to be lower to comply with applicable law, Variable Interest rates on 5-, 7-, and 10-year terms are capped at 8.95% APR; 15- and 20-year terms are capped at 9.95% APR. Your actual rate will be within the range of rates listed above and will depend on the term you select, evaluation of your creditworthiness, income, presence of a co-signer and a variety of other factors. Lowest rates reserved for the most creditworthy borrowers. For the SoFi variable-rate product, the variable interest rate for a given month is derived by adding a margin to the 30-day average SOFR index, published two business days preceding such calendar month, rounded up to the nearest one hundredth of one percent (0.01% or 0.0001). APRs for variable-rate loans may increase after origination if the SOFR index increases. The SoFi 0.25% autopay interest rate reduction requires you to agree to make monthly principal and interest payments by an automatic monthly deduction from a savings or checking account. This benefit will discontinue and be lost for periods in which you do not pay by automatic deduction from a savings or checking account. The benefit lowers your interest rate but does not change the amount of your monthly payment. This benefit is suspended during periods of deferment and forbearance. Autopay is not required to receive a loan from SoFi.