What is Edly?
Edly Student IBR (income-based repayment) Loans are unsecured educational loans that are issued by FinWise bank, a Utah-chartered commercial bank, member Federal Deposit Insurance Corporation (FDIC) insured FinWise's mission is to:
Enable their customers to take greater control of their financial lives
Remove barriers to education and
Remove the burden of unpayable debt for students
Edly offers Income Based Repayment (IBR) loans, an alternative to traditional private student loans. It is no secret that many university students are dealing with excessive student debt, with this in mind Edly has spent years understanding the student loan debt crisis to offer access to affordable higher education.
How does Edly Work for College Students?
After you express an interest in an IBR loan, Edly checks to see if you meet certain requirements based on school, major, graduation date, how much money you need and sends you an official offer with specific terms based on your information. If you are prequalified for an Edly IBR loan, you will be asked to submit an application and be subjected to a hard credit check. Upon accepting your application for a loan, Edly will send the information and funds over to your school to certify and your school will then disburse the funds to you.
While you are in school, Edly believes that you should focus on your education. Repayment begins no sooner than four months after graduation AND when you are earning more than $30,000. This lending model believes that graduates shouldn't begin repayment until they can afford it.
What does Edly Offer?
Edly has the resources to help you meet your financial obligations of attending school without the stress of devoting the next decade or more to repaying your student loans when grants and scholarships don't cover all your costs. Edly works with specific schools focusing on specific majors and programs. They look ahead at your potential earning value when issuing loans. Edly does not require applicants to have a cosigner. According to Edly, "students who meet the Edly requirements are three more times likely to qualify to be approved for an Edly IBR loan without a cosigner than for a traditional private student loan" (https://student.edly.co/).
Income Based Repayment Loans (IBRs)
With research to back their Guiding Principles, Edly has created a lending product called an Income Based Repayment Loan (IBR). While similar to Income Share Agreements (ISAs), IBRs are based on your future income. If your yearly income falls below $30,000, you can apply for deferment for two months at a time for up to 12 months until your earnings increase, and then adds that time to the end of the repayment term. If you are in graduate school, there is no deferment option available. If you do not earn more than the minimum income threshold for five years (the standard repayment term), you are not free of your Edly loan commitment, but rather interest will accrue on your loan payments during your deferment while you are below the minimum income threshold. The interest begins accruing the day the loan is disbursed and continues to grow, even in deferment. Once you reach the minimum income threshold and begin repayment, your loan payment increases as your income increases, thus being proportional to your income.
As an Edly borrower, you don't have to worry about any up-front fees and can expect a single simple monthly payment when you enter repayment. Using Edly's Check Terms page allows you to check the specific loan terms that may be offered to you.
Repaying Your Loan
As per the terms laid out in your contract, your loan may be fulfilled by
Making 60 regularly scheduled payments
Meeting the 2.25x repayment cap regardless of your income (i.e. a $10,000 loan would have a maximum repayment cap of $22,500)
Paying your loan off early with the 23% APR cap added to the loan amount
Pay the maximum payment window of 10 years and adhere to all the terms of the contract
Comparing Edly's IBR Loan vs. Traditional Private School Loan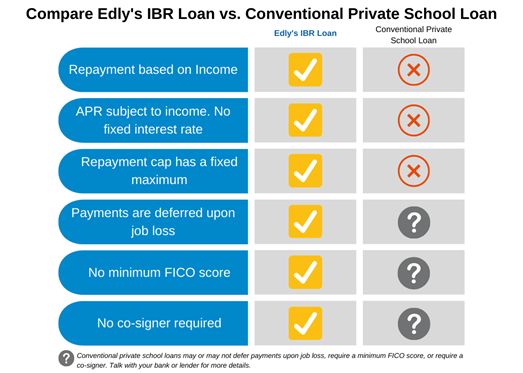 Pros and Cons of Edly IBR Loans
| | |
| --- | --- |
| Pros | Cons |
| When making at or above the threshold income ($30K) your loan is repaid once you make 60 payments | If you earn a high wage or want to pay your loan off early, you may end up paying 2.25x more than you borrowed |
| Edly does not require a cosigner or minimum credit score | It may be more difficult to predict upfront how much you'll be paying in repayment, but the maximum repayment cost is 2.25x more than what you borrowed |
| If you are unemployed or your income level is less than $30,000/year you are not required to make payments | Making less than the minimum threshold may add time to your overall repayment term |
| | IBRs may not be available to all as there may be specific degree or major requirements |
| Payments are considered flexible and easy to budget as it is a set percentage of your income | Taking out multiple IBR loans could require you to pay a larger percentage of your income during repayment Edly allows you to borrow between $5,00 and $15,000 per semester and has a $25,000 aggregate borrowing limit. Each loan you take out with Edly is considered a separate loan and will have separate repayment terms |
| Your loan has a fixed cap on the amount you pay | If you choose to refinance, you most refinance the maximum repayment amount which means you will be paying all the interest upfront when refinancing |
How to Apply for an Edly Loan
Begin by receiving an estimated quote and rate terms, which takes about 30 seconds.
You will then officially apply for the Edly IBR Loan. This takes about 2 minutes to complete and receive your official offer. Edly will run a soft credit check (which does not affect your credit score) to look for adverse credit history such as defaults or collections prior to your final approval.
When you receive your final terms, carefully review and fully understand all the terms and conditions of the loan before accepting your loan. The terms of your Edly loan (IBR percentage, initial monthly payment, initial APR and minimum income threshold) are all dependent on your school, year in school, major, intended graduation date, and amount needed.
Upon accepting your offer, Edly will send your information to your school to be certified and disbursed.
Edly has made the application process simple and easy to move through for those who are eligible and qualify. It is designed to be affordable and adjust with your income as you progress through your career to be quickly and efficiently paid off.