As college bound students prepare to start school in the fall, many are concerned about their ability to pay for the education they have been working towards for years. With all of news right now about the ever-rising costs of tuition, along with the mountains of student loan debt being accumulated, how students will pay for college has become the main question on everyone's mind. In fact, over 80% of students are worried it will be hard to pay back any money they borrow. The weight of future debt versus higher education has caused much uneasiness for students and their parents.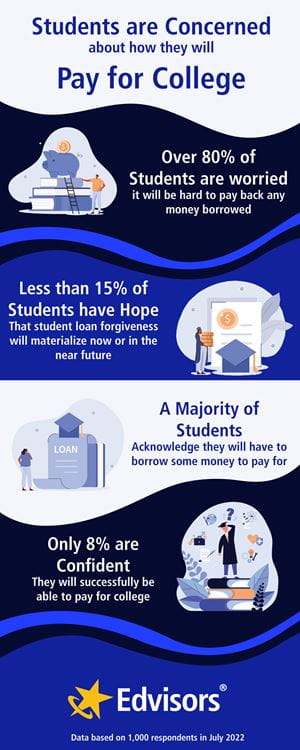 The Rising Costs of College
Over the last 60 years, U.S. students graduating from high school more than doubled from 41% to nearly 91%. With more high school graduates, it follows that the pool of students wishing to continue their education also grew. College graduates grew 5x over the same 60-year period, from a mere 7% in 1960 to over 37% in 2020, meaning that colleges have watched applications and enrollment grow exponentially over the years.
Also growing over the years and not looking to slow down anytime soon, is the cost of a college education. Between 1970 and 2020 the cost to attend college (both public and private) grew by more than 2000%, while the average annual salary in the U.S. only grew by little more than quarter of that. With costs outpacing salaries, it's not hard to understand why only 8% of students are confident they will be able to pay for college.
Our Mounting Student Debt
Student debt sits right behind mortgage debt in the United States as the second highest category of consumer debt. Currently at an estimated whopping $1.7 trillion, it's no wonder everyone is waiting on pins and needles to see if President Biden will forgive student loans, although only 15% of students believe it will ever materialize. Unlike mortgage debt which requires an approval process that considers current income and credit history among other factors, some federal student loans do not require proof of income or good credit for first-time undergraduate students, setting the stage for future debt.
Read more to learn about President Biden's student loan forgiveness and repayment relief
Of course, there are grants and scholarships as well as 529 college saving funds to help defray educational costs, but for many who will still fall short, the only option to bridge the gap is a student loan. The borrowing process repeats each year until graduation, so it's not uncommon for a student to graduate with several student loans that have accumulated over the years and can total into the thousands making it hard to manage that debt.
The average student with a bachelor's degree owes just shy of $32,000. This is estimated to run the student approximately $300 a month with a traditional 10-year repayment plan. The average starting salary for new graduates in 2022 is $55,000. After taxes this leaves an estimated $3,200 to cover all expenses such as housing, transportation, utilities, food, medical, etc. The $300 student loan payment accounting for around 10% of monthly take-home income is quite a large bill, especially with rent prices rising to an average $1,800/month nationwide (or more than 50% of a new graduates' salary).
3 Tips to Help Minimize Student Loan Debt
While the picture may look bleak on the outset, there are strategies to help minimize student debt while still obtaining a college degree and maintaining the hope for a future that a college education can provide.
Tip #1: Fill Out the FAFSA
The FAFSA (Free Application for Federal Student Aid) should always be the first go-to for any student. The form opens each year on October 1st for the following school year. The FAFSA will help identify any need-based aid such as grants and scholarships, as well as enable you to apply for federal student loans, which come with a number of affordable repayment options for students.
Tip #2: Take Advantage of Community Colleges
GE or general education courses are required for most every major and can usually be transferred from the community college to your university. The college expenses associated with attending a community college are typically lower than a 4-year public college and can amount to significant savings if you are planning to transfer to a private college.
Tip #3: Start Applying for Scholarships Now and Don't Stop Until You Graduate
Scholarships are money you typically do not have to repay. Any money you can win is money you don't have to borrow. Scholarships can be won as early as grade school and up through each year of college. The more you can find scholarships to apply for, the greater your chances of winning. If you make a habit of applying for scholarships early and often, you can expect to help reduce your debt with your scholarship winnings.