Paying for medical school can be a challenge, and most people will have to take out loans to cover the costs of medical school. On top of tuition, medical students may face other unforeseen expenses such as residency and relocation. The journey to becoming a doctor can be expensive, but there are plenty of loans, scholarships and grants available to help you make it through. We are grateful that you've made the decision to serve in this capacity, and we'd like to say thank you by helping you learn strategies to minimize debt and choose your best financial aid options as you prepare for doctor life.
Best Private Student Loans for Medical School
How Much Does Medical School Cost?
According to the Association of American Medical Colleges' (AAMC) Tuition and Student Fees Questionnaire, paying for medical school could cost anywhere between $33,290 and $91,557 per year. It's a wide range because factors like residency status, school of choice, need for health insurance, fees, etc., will vary from student to student. This is why it is so important to evaluate your financial aid options before making any final decisions on how to best pay for medical school. Becoming a doctor may enable you to earn that six-figure salary, but do know that it is common for medical school graduates to finish with six-figure debt. Based on a report by EducationData.org, the average medical school debt is $215,900, and that doesn't include debt students may have beforehand.
Financial Aid for Medical School
In this section, we cover the various forms of financial aid that aspiring doctors can pursue to soften the burden of paying for medical school.
Medical School Loans
While it's true that loans can be used to pay for medical school, the type of loans you use could have a huge impact on your ability to pay them later. Depending on your situation, you may need to take out federal loans, private student loans, or a combination of both. This is why it's so important for you to explore your financial aid loan options, and we dive into that next.
Federal Loans for Medical School
Many medical school students choose to use federal student aid to pay for medical school through federal loans, which are generally preferable to private loans. Federal loans have more loan repayment options and loan forbearance options which some medical students take advantage of during residency. Federal loans also allow for debt consolidation which can lower your payment on your federal loans, but consolidation will not lower your interest rate.
Direct Unsubsidized Loans
Sometimes referred to as Stafford Loans or Direct Stafford Loans, Direct Unsubsidized Loans do not require you to demonstrate financial need to receive one. Because these Direct Loans are unsubsidized, you must pay back all of the accrued interest.
Health professional students (aspiring doctors included) may borrow up to $40,500 per year in Direct Unsubsidized loans. The aggregate borrowing limit is $224,000 and the fixed interest rate for the 2023 - 2024 academic year (for loans first disbursed between July 1, 2023 and June 30, 2024) is 7.05%. There is also an origination fee, or "loan fee," to borrow funds, which is 1.057%*.
PLUS Loans
Direct PLUS loans are fixed rate loans used to cover the difference between other sources of funding and the cost of attending medical school. When the Direct PLUS Loan is made to a graduate or professional student, it's called a grad PLUS loan, whereas when it's made to a parent, it's usually referred to as a parent PLUS loan. When you get a PLUS Loan, your lender is the U.S. Department of Education (ED). To receive a PLUS Loan, you must have your credit checked by ED to determine if you have adverse credit history. If you do, you might still be eligible if you meet additional eligibility requirements.
With Direct PLUS Loans, you can borrow up to the cost of attendance minus other aid. The cost of attending medical school is determined by the school and includes tuition, fees, books, supplies, room and board, transportation and personal expenses. Direct PLUS loans have a fixed interest rate at 8.05%, and the origination fee is 4.228%* for academic year 2023 - 2024.
*For loans disbursed from Oct. 1, 2022 - Sept. 30, 2023
HRSA Loans
HRSA Loans, or Health Resources and Services Administration Loans, are long-term and low interest loans offered by schools to students with financial need pursuing a degree in the health profession. There are four (4) programs:
Health Professions Student Loans (HPSL)
These loans are for full-time or part-time students pursuing one of the following degrees: Doctor of Dentistry, Bachelor or Doctor of Science in Pharmacy, Doctor of Podiatric Medicine, Doctor of Optometry, and Doctor of Veterinary Medicine. A school is eligible as long as it offers degrees in one of the following disciplines: Podiatry, Dentistry, Optometry, Pharmacy, and Veterinary.
Loans for Disadvantaged Students (LDS)
These loans are available to students pursuing one of the following degrees: Doctor of Allopathic Medicine, Doctor of Osteopathic Medicine, Doctor of Dentistry, Bachelor or Doctor of Science in Pharmacy, Doctor of Podiatric Medicine, Doctor of Optometry, and Doctor of Veterinary Medicine. A school is eligible as long as it offers degrees in one of the following disciplines: Allopathic/Osteopathic, Podiatry, Dentistry, Optometry, Pharmacy, and Veterinary.
Nursing Student Loans (NSL)
These loans are for full-time students pursuing a medical education that results in an associate degree, baccalaureate degree, or graduate degree. A school is eligible as long as it offers a degree in nursing.
Primary Care Loans (PCL)
To qualify for these loans, med students must be pursuing a doctoral degree in Allopathic medicine or Osteopathic medicine. A school is eligible as long as it offers a degree in allopathic and osteopathic medicine.
Private Loans for Medical School
Once you've exhausted your federal student loan options, you may find that you still have funding gaps. Private student loans can help. While private student loans should be a last resort, and don't offer the same benefits and protections as federal student loans, they come with their own set of unique benefits which often include:
Competitive interest rates (apply with a creditworthy cosigner for the best possible rates)
Interest rate deduction for automatic payments
Low or no application or origination fees
Flexible payment terms
Multiple repayment options
Apply in just a few minutes
We recommend comparing lenders to find the student loan that is right for you.
How to Get a Full Ride to Medical School
If you're wondering if it's possible to get a full ride to cover medical school, we'll be optimistic but realistic. First, you don't have to rely entirely on loans to cover the expenses associated with a medical degree. There are scholarships, fellowships and even a small—albeit growing—population of tuition free medical schools. Second, gift aid may be available to medical students, but most programs do not cover all medical school costs. So, there may still be a gap. Below is a helpful breakdown of popular programs offering financial assistance that does not have to be repaid.
Scholarships for Medical School
Scholarships are another way to help pay for medical school. What makes scholarships great is that they don't have to be repaid. Earning scholarships might allow you to take out fewer loans and worry a little less about paying them back. Medical school scholarships are similar to other scholarships, varying from partial tuition to full tuition. For example, the Perelman School of Medicine at the University of Pennsylvania awards about 30 full tuition scholarships annually through their Twenty-First Century Scholars Program, and on top of that, there are other scholarships offered by the school.
As mentioned before, scholarships, whether full or partial, can make a huge difference in paying for medical school. With this in mind, we wanted to highlight some lucrative scholarships for medical school students below:
AMA Foundation Physicians of Tomorrow Scholarship Program
This program features several $10,000 scholarships for med students entering their last year of medical school.
Association of American Medical Colleges (AAMC) Loan Repayment/Forgiveness/Scholarship and Other Programs
This resource lists scholarships and state-specific repayment and forgiveness programs. Use their filtering features to see if you're eligible for any of these awards.
Herbert W. Nickens Medical Student Scholarships
Five $5,000 scholarships are awarded to third-year medical school students who have demonstrated leadership in overcoming inequities in medical education and healthcare.
National Health Service Corp Scholarship Program (NHSC SP)
This program awards scholarships to eligible students pursuing primary care health professions training who commit to work at least two (2) years at an NHSC-approved site in a HPSA, or Health Professional Shortage Area. Scholarship amounts cover partial or full tuition for a school year.
U.S. Air Force Health Professions Scholarship Program Scholarships
These are full-ride scholarships for US citizens enrolled in or possessing a letter of acceptance from an accredited medical school (MD or DO) in the US or Puerto Rico. After graduation, recipients serve one year of active duty for each year of the scholarship (minimum three years of service).
U.S. Army Health Professions Scholarship Program
This scholarship program awards its recipients a full-tuition scholarship, monthly stipend of $2,200+, $20,000 sign-on bonus, monthly allowance for food and housing, books, equipment, etc.
U.S. Department of Labor
CareerOneStop is the U.S. Department of Labor's scholarship search tool that consists of over 8,000 scholarship, fellowship, and grant opportunities you can explore.
U.S. Navy Health Professions Scholarship Program
This program offers tuition assistance for a maximum of four years of school, a $2,200 monthly stipend, and a $20,000 sign-on bonus. It is solely for Medicine and Dentistry, and to apply, students must work directly with a Navy Medical Programs Recruiter because no online application exists.
Medical School Fellowships
Like scholarships, fellowships do not need to be paid back. The major difference between fellowships and scholarships is that fellowships are geared towards graduate and professional school students as opposed to undergraduates. This is great news for medical school students.
This 6- or 8-week program allows medical and veterinary students to get invaluable experience while being mentored by CDC experts. In order to be eligible, students must be currently enrolled in a US accredited medical or veterinary school and have completed at least 2 years of coursework.
The National Medical Fellowships (NMF) organization is a great resource for underrepresented students pursuing careers in healthcare. In addition to scholarships, students can discover service-learning programs that connect them with mentors.
Tuition Free Medical School
Tuition-free medical schools are becoming more prevalent year after year. While it's true that these medical schools can provide a big break for medical school students, do note that tuition free and full ride are not synonyms. There may be additional expenses to cover including living expenses, books, etc.
Also, in some cases attending medical school tuition free means that there may be additional conditions in exchange for not having to pay tuition. For example, the Cleveland Clinic Lerner College of Medicine offers a full scholarship that covers tuition and fees to all of its students; however, there is an additional research thesis year which makes the program a five-year one. It's important to weigh your options, so make sure you read the fine print and know what you're agreeing to. Below you can find some tuition-free medical schools in the US:
NYU offers full-tuition scholarships to all current and future MD students. Merit or financial need are irrelevant, but students must maintain satisfactory academic progress in accordance with the medical school's policy.
USUHS provides students with a free medical school education in exchange for a seven-year active duty military commitment.
The UCLA David Geffen School of Medicine awards merit-based scholarships to approximately 25% of current UCLA medical students. Financial need is not considered for eligibility. The scholarship covers in-state tuition and includes a living stipend to offset other expenses.
WCM covers the tuition for medical students who demonstrate financial need. For WCM, this is determined by subtracting the expected family contribution (EFC) from the cost of attendance (COA).
Residency Relocation Loans
You may find yourself in need of a residency or relocation loan from a private lender after completing your medical degree. This is mainly because federal student aid ends after you finish med school. But obviously, the expenses don't stop once you crush your med school finals. You still have to complete your residency which may also require relocation. But it's not like dollars are rolling in the door during this time. Fortunately, private student loans come in the form of residency and relocation loans.
Enter your school name below to find lenders that offer medical residency and relocation loans.
Medical School Loan Repayment
As you try to figure out strategies on how to pay back your medical school loans, know that you're not alone. Other students have had similar questions, and fortunately, there are resources available to help you make a plan and move forward.
Could student loan refinancing save you money?
Association of American Medical Colleges (AAMC)
One popular free resource we recommend is the AAMC's FIRST program, which stands for Financial Information, Resources, Services, and Tools. The FIRST program can help you make more informed financial decisions when applying, attending, and leaving medical school. There, you will find helpful fact sheets, webinars, videos, articles, etc. You will need to create an account with AAMC to access the free products and services.
On the other hand, there are plenty of options for paying back your medical school loans. In general, you'll have your choice between traditional repayment plans and income-driven repayment plans.
Traditional Repayment Plans
The standard repayment term is 10 years, but extended repayment plans are available as well depending on how much you owe. A general rule of thumb here is that the longer your repayment term is, the more you will pay in interest over the course of the loan, and the shorter your repayment term, the larger your monthly payments.
Income-Driven Repayment Plans
These repayment plans typically use a portion of your income to pay for your loan. Many borrowers benefit from this type of repayment strategy because the monthly payment is lower than the Standard Repayment plan; however, borrowers should be wary of this strategy because more interest is paid under these plans in comparison to the standard 10-year repayment plan.
All in all, it's important to have a plan before jumping into repayment because Public Service Loan Forgiveness (PSLF) can be a game changer for aspiring doctors with federal student loans.
Medical School Loan Repayment Calculator
This calculator can quickly get you an estimate on your payments and total interest you'd pay if you refinanced your loans. We recommend adding your loans together with their respective interest rates to get an accurate idea on what you can expect after consolidation.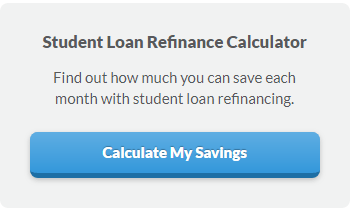 To access the premium version, you will have to be enrolled in medical school. You must register for AAMC in order to save your information. Check out the Medloans® Calculator.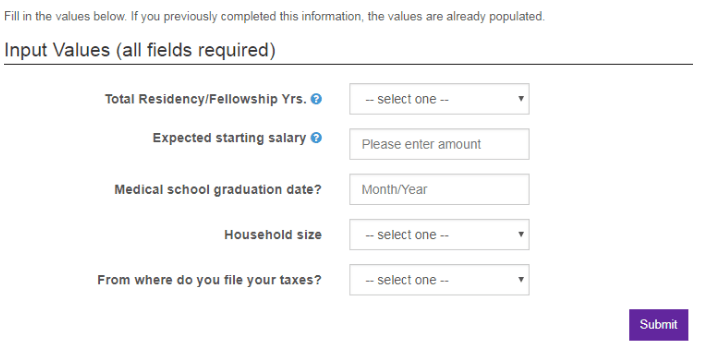 You can estimate your payments under each repayment plan on the federal website. Estimate under income-driven repayment plans, PSLF, and more.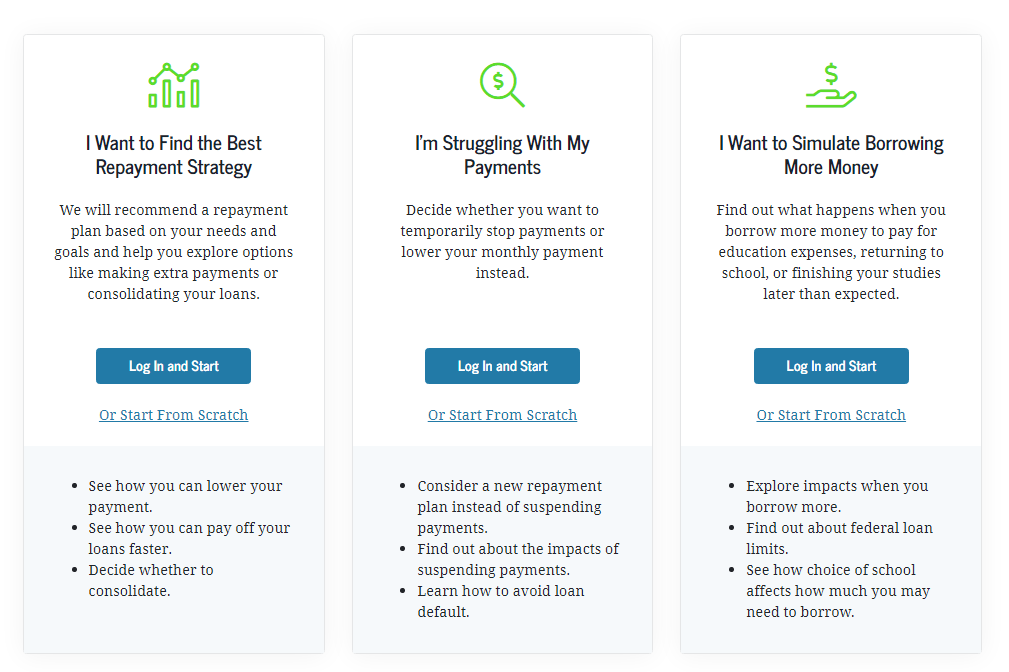 Medical School Loan Forgiveness
Knowing that you can have a portion of your federal student loans forgiven can be a sigh of relief for medical school students and aspiring doctors. Student loan forgiveness isn't just limited to medical school debt, but it may include undergraduate debt as well (if applicable). With this in mind, you may want to consider the diverse programs that deal with student loan forgiveness.
PSLF for Doctors
The Public Service Loan Forgiveness Program, PSLF Program, enables students who borrowed Federal Direct student loans to have the outstanding balance on their direct loans forgiven following making 120-qualifying monthly payments. Continue reading to see if you qualify because you might be able to have a huge portion of your federal loans forgiven.
Verify that your federal student loan is eligible. Only Direct Loans qualify for the PSLF program. Perkins Loans, Federal Family Education Loans (FFEL), and private loans are NOT eligible.

If it turns out that you have federal loans that aren't Direct Loans (like Perkins or FFEL loans) you still have options. After consolidating those loans with a federal Direct Consolidation Loan, you could qualify for PSLF after you have made 120-qualifying monthly payments on the newer consolidated loan.

To qualify for PSLF as a health professional or doctor, you must have full-time employment with a qualifying employer. Government organizations (military included), 501(c)(3) not-for-profit organizations (including eligible hospitals), and other eligible not-for-profit organizations that provide certain qualifying public services, are among qualifying employers.
Make the 120 qualifying monthly payments. Which payments qualify? Those that are made:

After October 1, 2007
Under an eligible repayment plan
For the full amount due as indicated on your bill
No later than 15 days after the due date
While employed full-time with a qualifying employer (you must apply forgiveness while you're still employed full-time with a qualifying employer)

Repay your Direct Loans under an eligible repayment plan, namely a 10-year standard repayment plan or income-driven repayment plan.

Note: If your end goal is PSLF, be careful when selecting a repayment plan. If you go with the 10-year standard repayment option, you will not have any outstanding balance left to be forgiven because the 10-year plan has 120 monthly payments. Remember, this is the same number of necessary payments to qualify for PSLF. Because of this, repaying under an income-driven repayment plan is preferred for those wanting to qualify for PSLF.

Parent PLUS Loan Borrowers: Federal Direct Parent PLUS Loans are only eligible for PSLF after being consolidated and repaid under an income-contingent repayment plan. This stipulation exists for Parent PLUS Loans, but it does not for Grad PLUS Loans, though both are Direct PLUS Loans.

Complete an annual Employment Certification Form (ECF). Although this is not a requirement for PSLF, it is recommended because of the nature of the ECF. The U.S. Department of Education uses it to verify your progress to student loan forgiveness. Get an ECF document from the U.S. Department of Education's PSLF Help Tool and have your employer certify it.
Submit your PSLF application to the U.S. Department of Education. Do this when you have successfully made the 120-qualifying monthly payments. You can partially finish your application with the PSLF Help Tool.
Before moving on, we want to emphasize student loan consolidation and what it means for PSLF. Ineligible federal student loans can be made eligible for PSLF if you take advantage of federal loan consolidation. The only catch to this is that once consolidation occurs, any payments made up to that point would not count towards the 120 qualifying monthly payments. This is why knowing your options ahead of time is significant. If you would like to consolidate your federal student loans, it is better to consolidate earlier than later because an earlier consolidation enables you to get to your goal of 120 qualifying monthly payments faster, potentially saving you tons of money in the long run.
There are additional programs to help make dents in your student loans.
In exchange for committing to conduct NIH related research, qualified health professionals can have up to $50,000 of their qualified educational debt repaid per year.
Primary care medical professionals, in exchange for two years of full-time or half-time service in a qualifying urban, rural, or tribal community, can receive awards up to $50,000 to repay their student loans.
Federal Perkins Loan holders may experience some debt relief with this program. If you served in an armed forces location defined as hostile-fire or imminent danger, 50% to 100% of your Federal Perkins Loan may be forgiven. Do note that this does not apply to other student loans, and Federal Consolidation Loan is no exception, though it includes a Federal Perkins Loan. Reach out to your loan servicer to find out more information and see if you qualify. Lastly, be prepared to send a copy of your DD214 armed forces discharge form.
Refinance Medical School Loans
Refinancing your student loans might be just what the doctor ordered. We work with some of the best lenders in the industry to provide you with the best refinancing options, rates, programs, and more. Consolidation and refinancing generally permits you to save money with lower interest rates. You can learn more about your options by reviewing our preferred lenders.
Federal consolidation and private student loan refinancing are not the same. As a matter of fact, private student loan refinancing is the only way to combine federal and private loans, or have a parent released from being a cosigner on your loan(s). For more details, check out "Should I Consolidate My Student Loans?"
What to Read Next
Best Private Student Loans for September 2023
Medical Residency and Relocation Loans
Dental Residency and Relocation Loans
Health Professions Student Loans
Student Loans for Graduate School