Free Filing the FAFSA Guide 2018-2019 Edition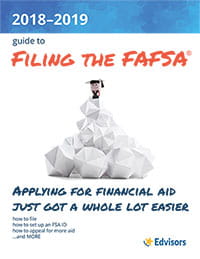 The Ultimate Guide to the FAFSA®
It's time to take the guesswork and confusion out of filing the FAFSA.
Interactive and easy to navigate
Advice on the most commonly asked questions
Glossary of terms
College packing list to help you prepare
Created for students like you!
Topics Include
Understanding the 2018-2019 FAFSA
Making Changes to the FAFSA
Am I a Dependent or Independent Student?
Who is Considered a Parent for the FAFSA?
FSA ID Explained
How to Appeal for More Financial Aid
...and more!
Download your free copy of Filing the FAFSA
Looking for FAFSA info for the previous academic year?
Click here for the 2017-2018 version of Filing the FAFSA.
Copyright © 2018 by Edvisors.com. All rights reserved.