Student Aid Secrets: Proofread the FAFSA Thoroughly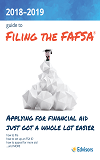 Take the guesswork out of filing the FAFSA.
Errors on the FAFSA (Free Application for Federal Student Aid) can cause delays in processing the form and lead to the student qualifying for the wrong amount of financial aid. So, gather necessary documentation before starting the FAFSA, double-check everything while completing the FAFSA and review the summary before submitting the FAFSA. Also, look at a list of the most common errors on the FAFSA. Become more familiar with the FAFSA by downloading a copy of the PDF version of the FAFSA and the FAFSA on the Web worksheet.
Avoid making some of the most common errors on the FAFSA by following these tips:
File the correct year's FAFSA. From January 1 to June 30, there are two versions of the FAFSA available. One is for the current academic year, while the other is for the next academic year. More than 90% of applicants will want to file the new FAFSA for the upcoming fall.
Don't miss deadlines. File the FAFSA as soon as possible after January 1. Don't wait to file the FAFSA until after filing the federal income tax return. Some states and colleges have very early deadlines or award financial aid on a first-come, first-served basis.
Do not leave a field blank. If the answer is zero, enter a 0 in the form.
Names should be spelled exactly as they appear on the Social Security card. Compare the name and Social Security number on the FAFSA with the Social Security card to avoid errors.
Use the correct date of birth. It is surprising how often people misremember their own date of birth, such as errors in the birth year. People sometimes mistakenly substitute the current year for their birth year.
Digit transpositions and including an extra zero or repeated digit are common in dollar amounts.
Not only should a stepparent who is married to the custodial parent be counted in household size (regardless of any prenuptial agreements), but also any children of the stepparent who receive more than half their support from the stepparent, even if the children do not live with the stepparent. If any of these children are enrolled in college, they may also be counted in the number in college.
Do not report qualified retirement plans and the net worth of the family home in response to the question about the net worth of investments. These assets are ignored on the FAFSA.
Starting in 2014-2015, if the student's parents are divorced or unmarried but live together, they are treated as though they are married.
If filing the FAFSA on the Web, save the FAFSA data frequently.
Take a short break before proofreading the FAFSA. A fresh pair of eyeballs is more likely to notice errors.
Copyright © 2018 by Edvisors.com. All rights reserved.