Student loans shouldn't be your first choice, but sometimes they are necessary to help pay for college. If you're smart about it, borrowing loans can be a worthwhile investment into your future.
It's important to apply for financial aid by completing the FAFSA. Your school will take the information on your FAFSA to determine your financial aid package. We always recommend that you explore all your free options first, like grants, scholarships, and your own savings. If that's not enough, then it's time to consider loans. If there are any loans offered to you from the federal student aid program, or from your school, do your research before accepting the award! Not all loans are the same, and some may have more beneficial terms than others.
It's up to YOU to make sure YOU know what YOU committed to. If you are borrowing a loan, that loan can be part of your life for more than ten years…think about how long that is!
Start with Federal Student Loans
When it comes to selecting student loans for college expenses, starting with Direct Federal Student Loans (also known as Stafford Loans) is highly recommended. Federal student loans provide certain advantages that are not available with private student loans. These benefits include generous deferment and forbearance periods, income-based repayment plans, and public service loan forgiveness for eligible borrowers.

There are three main types of federal student loans, each with its own distinctive features.
Direct Subsidized Loan
A Direct Subsidized Loan is a fixed-rate federal student loan only available to undergraduate students. Demonstrated financial need is required in order to qualify. With a subsidized student loan, the government pays your interest while in school, during your grace period, and during periods of deferment. The interest rate for a Direct Subsidized Loan is the same for all borrowers and is currently 5.50%.
Direct Unsubsidized Loan
A Direct Unsubsidized loan is a fixed-rate federal student loan for undergraduate and graduate students. Demonstrated financial need is not required in order to qualify. With an unsubsidized loan, you are responsible for the interest that accrues while you are in school, during your grace period, and during periods of deferment or forbearance. The interest rate for a Direct Unsubsidized Loan for undergraduate students is currently 5.50%. The interest rate for a graduate student is currently 7.05%.
PLUS Loan
A PLUS Loan is a federal student loan designed to help graduate students and some parents pay for college.
Parent PLUS Loans
A parent PLUS loan is available to the parents of dependent undergraduate students to help their child pay for college. To be eligible, a parent cannot have adverse credit history as determined by the program (note: this is not the same as a credit check for a private student loan, which is much more stringent). The current interest rate for a parent PLUS loan is 8.05%.
Grad PLUS Loans
A grad PLUS loan is available to graduate students to help pay for graduate or professional school. To be eligible, a student cannot have adverse credit history as determined by the program (note: this is not the same as a credit check for a private student loan, which is much more stringent). The current interest rate for a grad PLUS loan is 8.05%.
How to Apply for a Federal Student Loan
To apply for a federal student loan, you first need to file the FAFSA.
The simplest way to file the FAFSA is online at studentaid.gov or through the MyFAFSA mobile app. To file the FAFSA electronically, you will need your FSA ID. If you don't have one, you can register at studentaid.gov.
You may also choose to file a paper FAFSA, but this will take longer to process.
To apply for a parent PLUS loan, your child will first need to complete and submit the FAFSA. Once this is done, the parent can log into studentaid.gov with their own FAFSA ID and complete the PLUS loan application. Here you will indicate how much you would like to borrow and agree to a credit check to see if you have adverse credit as determined by the program.
Note: Before you borrow from the parent PLUS loan program, make sure to exhaust Direct subsidized and unsubsidized loan options first as these loans have lower interest rates and fees.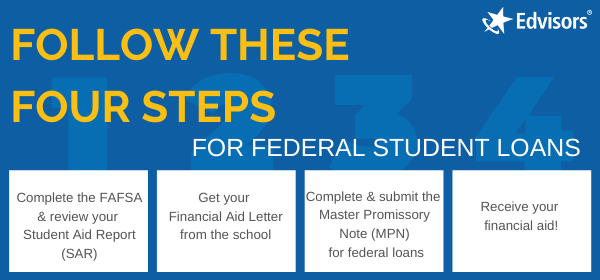 Once you have accepted your federal student loans, you may still have funding gaps. Or you may want to forgo PLUS loans for a more competitive interest rate and loan with no origination fees. This is where private student loans come in.
Private Student Loans
Private student loans exist to help students fill the funding gaps when federal student loans, scholarships, and grants come up short. There are several types of private student loans available depending on the borrower and situation. Unlike federal student loans, most private student loan lenders do not charge origination fees. Private lenders are also known to offer competitive interest rates. We always recommend that you limit the amount you borrow, but if you need some help covering those college costs, it's worth it to do the research to find the best student loan options for you.
Compare Federal Direct Loans to Private Student Loans
Comparing Federal Direct Loans to Private Student Loans Details

| Loan Type | Borrower | Interest Rate | Loan Fee | Credit Check? |
| --- | --- | --- | --- | --- |
| Direct Subsidized Loan | Undergraduate Students | Fixed 5.50% | 1.057% | No |
| Direct Unsubsidized Loan | Undergraduate Students | Fixed 5.50% | 1.057% | No |
| Parent PLUS Loan | Parents of Dependent Graduate Students | Fixed 8.05% | 4.228% | Yes |
| Grad PLUS Loan | Graduate Students | Fixed 8.05% | 4.228% | Yes |
| Private Student Loan | Undergraduate Students, Graduate Students, Parents | Fixed or Variable starting at 5.09% | Varies by lender, many lenders do not charge and origination fee | Yes |
Institutional Loans
When you think about private student loans, you think of the type of loans that are offered through banks, lenders, or credit unions, you may not think of loans offered through your school. When we talk about private student loans we really mean loans that fall outside the 'federal' classification. This includes institutional loans.
Some schools may have enough resources to offer their own campus-based loans. These can often be earmarked for groups of students that meet certain criteria, such as students' regional backgrounds. In many cases, institutional loans may offer lower interest rates and more favorable terms than what is widely available from traditional lenders.
Not every school has the endowments or donors to offer institutional loans, but it certainly doesn't hurt to ask if this might be an option for you.
Something else you may see from your school is a form of short term financing offered by your school through an outside lender. This may or may not be presented to you as a loan, however, it will have its own repayment terms and conditions. You especially want to read the fine print about what happens if you (voluntarily or involuntarily) withdraw from your program or are unable to make payments.
What Can Student Loans Be Used For?
You can use student loans for education-related expenses. But that is a broad statement, so let's get more specific. Student loans should be used to cover things like:
Tuition and fees
Living expenses (i.e., room/board) which could be on-campus or off-campus housing
Text books
Computers and supplies; equipment needed for classes
Meal plans
Transportation to/from school (example: bus fare, gas)
Child care expenses
What you should not use your student loans for are non-essentials and things that do not relate to your education. For example, buying airline tickets for spring break, or buying a new car. Sometimes, there may be questions related to qualifying educational expenses. When in doubt, refer to your school's cost of attendance breakdown or talk to your school. Depending on your major or degree, or certain circumstances, some less obvious costs may be considered as qualifying educational expenses.
Student Loan Tips
When it comes to taking out student loans, here are some good tips to follow.
Borrow only what you need - It may be tempting to get more money based on loan amounts you've been told you could access. But do the hard work to determine your actual budget and borrow accordingly. Consider that you may end up borrowing for each year you remain in school, including any time you spend earning an advanced degree. So you'll want to weigh the cost for all those years. Don't forget to factor in the interest!
Read the promissory note - Forgive us if this sounds patronizing, but you'd be surprised how many people sign contracts (which is what the promissory note is) without actually reading it. There are certain obligations you should be aware of as a borrower, and you want to minimize any surprises in the future.
Shop smart - When it comes to private student loans, compare the features and benefits that lenders offer, not just the interest rates.
Practice good record keeping - Whether it's digital or physical, you want to be able to quickly put your fingers on all your student loan related documents when you need them. This article on how to locate your student loans can help.
Beware of inflated student loans - If you end up borrowing unsubsidized federal loans and/or private student loans, interest accrues while you are in school that you are responsible for. You have the option to pay this interest while you are in school, but if you are unable to do so the unpaid interest will end up getting added (capitalized) on top of your principal balance (the amount you borrowed) when you enter repayment. Even if you cannot afford to pay all the interest that accrues, if possible, chip away at it and pay a portion. Anything you pay toward your student loans while in school can help decrease the overall cost of your loan.
Think about your future - Once you've finished your studies, consider refinancing your loans to potentially qualify for a lower interest rate, or to make monthly payments more manageable, or to simplify your student loan repayment through a single lender…or all of the above.
Enroll in auto pay - Auto pay is a great way to qualify for an interest rate reduction, and to protect your credit. If you are late on your payments, you run the risk of having a negative mark show up on your credit profile. Auto pay can not only help you save money, but it could preserve an otherwise solid credit score.
Pay twice per month instead of once - If you split your monthly payment in half and pay biweekly, this strategy actually results in one additional payment per year towards your loan. You also get a jump start on the accrued interest and end up with more of your payments being directed to your principal balance over time.
Ways to Reduce Your Need for Student Loans
Another approach to paying for college is to reduce or eliminate your need to take out student loans. Here are some ways you can reduce your borrowing.
Community College
Attending a community college first can significantly decrease your cost of tuition, in some cases making student loans unnecessary.
Tuition Payment Plans
Tuition payment plans are a great way to avoid loans. Many schools will allow you to make a series of payments at specified intervals to cover the cost of your tuition while attending. This can allow you to work and save to meet each payment, rather than borrowing money.
Use a 529 Savings Plan
If you have a 529 College Savings Plan, use those funds before you borrow student loans.
Work-Study
If you are a student with demonstrated need, you may qualify for a work-study position. This is a job, typically at the school, where you can earn additional money to pay for college. Eligibility for work-study is determined by the FAFSA.
More About Student Loans for College
Best Private Student Loans for December 2023
Private Parent Loans for College
Private Student Loans vs PLUS Loans