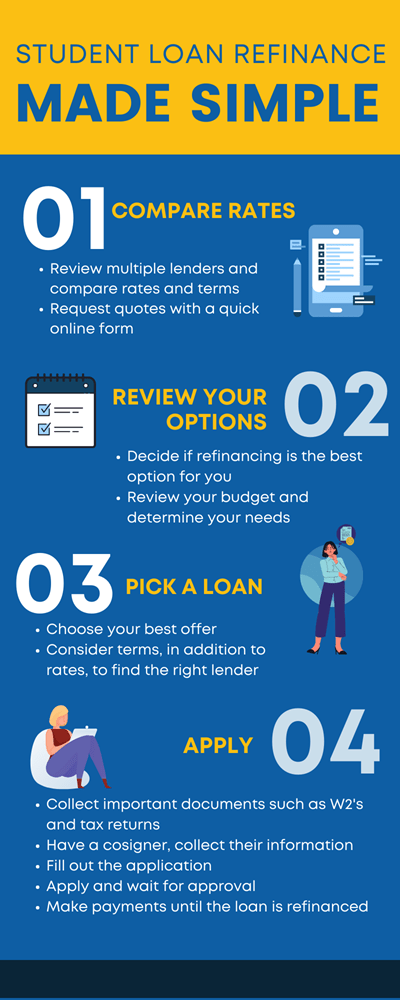 It's no secret that a student loan debt can be overwhelming. One promising option is the opportunity to refinance student loans. Like most other kinds of debt, student loans can be refinanced to offer lower interest rates, different repayment terms, and other revisions that alleviate the burden for borrowers. If you're wondering how refinancing student loans can save you money — and how to get the process started — consider our tips below.
Important point to note: If you have federal student loans you may not want to opt to refinance with a private lender as you could lose valuable benefits only available to federal student loans. That said, if you want to keep these benefits but still need do something to make your loans more manageable, you can consider loan consolidation with a federal Direct Consolidation Loan. There is no fee to apply for this loan.
By consolidating your federal student loans, you will be able to merge multiple loans into one. However, you will not be able to lower your interest. The federal government will use the weighted average of the interest rates for all your federal student loans being consolidated, rounded up to the nearest one-eighth of a percent.. With a Direct Consolidation Loan, you may be able to extend your repayment plan which would reduce your monthly payments. While that may cause the loan to be more expensive overall, but it may be able to help you make your monthly payment more manageable.
Understand Lender Requirements
One of the first steps to refinancing private student loans is to understand the qualifications that a lender will expect from you. Refinancing means that you must apply and be accepted for a new loan, so naturally lenders will want to make sure that you are qualified to borrow money. Some of the criteria that a private lender may judge your application on include the following:
Whether you have a good credit score and history (typically your credit score needs to be above 660)
Your net income after expenses such as rent or a mortgage
The duration of your current employment (lenders generally look for at least two years of employment history)
Your payment history on existing student loans and debt
All of these factors will determine whether or not you are able to refinance your private student loans. Typically, a refinance lender will look for candidates who have a good credit score, sufficient income, an employment record of several years, and a history of on-time payments to their existing borrower. If you are not able to qualify for a student loan refinance on your own, you may be eligible if you apply with a creditworthy cosigner.
Refinancing with a Cosigner
It's recommended that you conduct a credit check to understand your credit history. You can do this at www.annualcreditreport.com. You should know before you apply what qualifications lenders are looking for in borrowers. Use this knowledge to guide you before you start submitting applications and getting denied—credit inquiries from lenders could affect your credit score.
If you find you are unable to refinance your student loans on your own, you might want to consider a cosigner. A cosigner will not only give you the opportunity to refinance (assuming you don't qualify on your own), but if the cosigner has a stronger credit score and credit history, you might be to get a better interest rate than you would have received on your own.
It's important to keep in mind that the cosigner will be just as responsible as you are to repay the loan. It may be possible to release the cosigner (if the loan terms and conditions allow for it). Generally, a lender will be willing to release the cosigner after a set number of consecutive on-time in-full payments, and you are able to meet the credit criteria set in your cosigner release terms and conditions. This is typically around 24 payments but can be less or more, as determined by the refinance lender.
Check Different Lenders' Interest Rates
If you believe that you may qualify to refinance your student loan amounts (on your own or with a creditworthy cosigner) there are many online lenders who offer easy to access refinance quotes based on a soft credit check (a prequalification process that will not affect your credit score). These quotes will typically include an overview of rates and terms, including the interest rate for refinancing. You will likely be offered a refinance loan with the option of a fixed interest rate or variable interest rate. The final interest rate will be based upon your loan application and a hard credit check (this will effect your credit score slightly).
A fixed interest rate will ensure that you have the same monthly payment over your entire repayment term. This certainty can be meaningful to some borrowers while others are more interested in a variable interest rate loan.
A variable interest rate loan will have an interest rate that fluctuates based on the current market interest rates. This means the rate can and will change during the repayment process. It might start out low but could go up if market conditions allow for it. Variable interest rates offered at the time of refinancing tend to be lower than the fixed rate, making this rate seem more appealing. However, you want to be cautious. Since the interest rate can change during the life of the loan, you want to know what your interest rate range is—the lowest your rate can be and the highest, based on the loans terms. You want to make sure you can afford the payments at both the low and high end of the range.
Some say that variable rate refinancing is advantageous. Benefits of a variable interest rate include the following:
Overall interest rate may be lower
Greater flexibility in repayment options
Can save money over the life of the loan May offer ability to pay off sooner
The interest rate structure that you qualify for will depend on lender as well as your credit history.
Compare Top Refinance Lenders
Automatic Payments
Nearly every lender has some form or another of an interest rate reduction incentive for automatic payments (payments deducted right from your bank account and sent directly to the lender). The discount generally ranges between 0.25% and 0.5%. This savings may seem small but can add up over time. It's important to ask the lender about this during your research phase if this is something you know you will want to take advantage of.
Choose Your Loan Terms
It's in your best interest — no pun intended — to shop around for the best refinancing offer. Different lenders will offer different refinance rates and refinancing your student loans with a lower interest rate can save you money over the life of your loan. Once you have been approved for a few refinancing offers, you should choose the loan terms that are best suited to your financial situation.
The first factor that most people will look at is the interest rate. Obviously, the lower the rate, the better the deal. Consider the aforementioned difference between fixed and variable rates, though, to decide which one is truly best for you.
Evaluate other terms of the loan too, such as its repayment period which can be as short as 5-years and as long as 20 years or more. The repayment period determines how much or little your monthly payment will be. Longer terms equate to lower payments and shorter terms higher payments.
You may find yourself looking at a refinance loan which offers a lower interest rate but a shorter repayment period, thus resulting in monthly payments that are too high if the interest rate reduction isn't big enough. While interest rate is an important factor to look at when choosing a refinance lender—be sure to look at the big picture and choose the loan terms that are best for you.
Submit All Applicable Documents
Once you've chosen a refinance lender who offers agreeable terms, it's time to accept their offer. Lenders will require that you submit certain documentation to support the information that you furnished on your refinance loan application. Documentation requirements will vary from lender to lender, but you can typically expect to be asked for the following:
Valid photo ID
Payoff quote from original lender
Proof of income and employment
Authorization to pull your credit report and credit history for a full credit check – if applicable, your cosigner will also have to provide this authorization
Photo ID should include your current address — the one listed on your application — in order to confirm your identity and place of residence. Acceptable forms of ID will likely require a photo and must not be expired, the recommended forms of ID to use are a driver license, state ID or passport.
The payoff quote from your original lender will typically come in the form of a letter indicating the lump sum that would be required in order for you to completely pay off the loan and close the account. Your refinance lender will need this because they will pay off your original lender before issuing you a new loan.
Lastly, you will need to furnish proof of income and employment — or W2s or 1099s if you are self-employed — in order to prove to your new lender that you are, in fact, capable of making monthly payments on the new loan amount. Lenders will typically ask for two or three of your most recent pay stubs to satisfy this requirement.
Continue Paying Until Balance is Transferred
Once you've been approved for a student loan refinance offer, chosen a lender, and submitted all the necessary documents, you're ready to start enjoying lower payments on your student loans. This is worth celebrating! Congratulate yourself on your accomplishment and look forward to the freedom that a lower interest rate will afford you…but don't forget about your original loan just yet.
It's important to continue making payments on your original loan until your refinance lender has officially paid it off and closed the account. You should keep in touch with both the original lender and your refinance lender to stay aware of any progress updates on the completion of this process. Until your balance is transferred to your refinance loan servicer, you need to continue monthly payments on your original loan.
Find Student Loan Relief Through Refinancing
Student loan debt can be overwhelming, but it can be made more manageable when you refinance your loan. Whether you're looking for a variable or fixed rate interest, you can likely find a lender who will offer agreeable terms and help alleviate your student loan woes.

Student Loan Refinance Calculator
Current Loan Summary
Types of origination loans with payment terms and costs.
Loan Type
Amount Borrowed
Current Payment
Current Term
Total Cost of Loan
Current Monthly Payments:
Your Consolidation Loan Summary
Types of consolidation loans with payment terms and costs.
Loan Type
Amount Borrowed
New Payment
New Term
Total Cost of Loan
This calculator is provided for informational purposes only. Calculated results are based on many factors, including the assumptions provided by the user. We cannot and do not provide any guarantees, conditions or warranties as to result accuracy or applicability to the user's particular circumstances. It is the responsibility of the user to verify that all of the output and resulting calculations are correct. This calculator should not be used by anyone to make material financial decisions and should be used solely for informational purposes. Actual terms will be set by your lender or your school. We encourage any user to seek personalized advice from qualified professionals regarding all personal finance issues. The results of this calculator are not based on any information provided by or an affiliation with any school.