How do I apply for a Parent PLUS Loan?
The Parent PLUS Loan application process can vary from school to school. In some cases, parents can apply online through StudentLoans.gov. To find out how the process will work for you, contact the financial aid office at your student's school.
If the school tells you to use StudentLoans.gov, follow the application process below.
Application Process
Step 1: Submit the FAFSA
Families must submit the FAFSA (Free Application for Federal Student Aid) to apply for the Parent PLUS Loan. It's always a good idea to submit the FAFSA anyway, as your child may be eligible for other grants, student employment, or federal student loans.
Note that in situations of divorce, either parent (or both) may apply for the Parent PLUS Loan. It does not have to be the parent who completes the FAFSA.
Step 2: Request the Loan through StudentLoans.gov
After signing in to StudentLoans.gov using your own (not your student's) FSA ID, select the "Request a PLUS Loan" option and follow the instructions.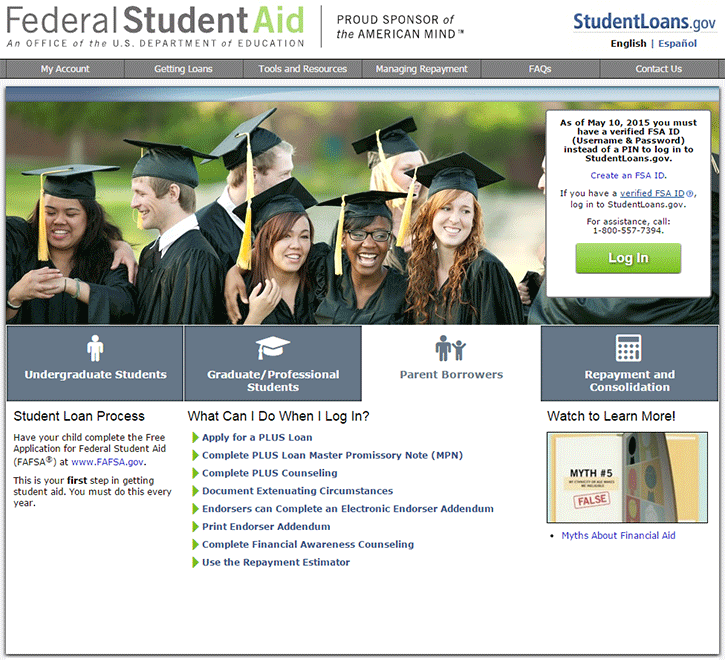 Step 3: Sign the Master Promissory Note (MPN)
The Master Promissory Note is the official loan agreement that describes the terms and conditions for repaying the loan. The same parent who completes the PLUS Loan Request must sign the MPN before the loan funds can be sent to the school. The MPN is also available at StudentLoans.gov.
Note that an MPN is good for 10 years, so you may only need to sign this on the first application. However, in subsequent years, each request for a Parent PLUS Loan will start a new credit check.
If two different parents would like to apply for Parent PLUS Loans, each must complete this application process separately. If requesting funds in the same year for the same student, the total combined amount may not be higher than the school's Cost of Attendance.
Sallie Mae
student loans offer competitive fixed and variable rates for undergraduates, graduate students and parents.
Learn More
PLUS Loan Application Tutorial
For additional help completing the Parent PLUS application online, check out this short video from University of Colorado Boulder.
How to Cancel a Parent PLUS Loan
If you want to cancel all or part of your Parent PLUS Loan, you should contact the school's financial aid office. Even if the funds have already been disbursed, you may still be able to cancel the funds within a certain timeframe.
Parent PLUS Loan Credit Balance
If the Parent PLUS Loan creates a credit balance on the student's account, parents have the option to accept the refund or have the refund issued to the student. You can specify the recipient of leftover funds during the application process, or contact the school to update this information.