Parent PLUS Loan Overview
Summary: The Parent PLUS Loan is a federal student loan available to the parents of dependent undergraduate students. The Parent PLUS Loan offers a fixed 7.6% interest rate for the 2018-2019 school year and flexible loan limits. To be eligible, a parent can't have an adverse credit history. Parent PLUS Loans have a 4.248% origination fee (for loans first disbursed on or after Oct. 1, 2017 and before Oct. 1, 2018).*
Parents of dependent undergraduate students borrow the Parent PLUS Loan to help their children pay for college or career school. The Parent PLUS Loan offers a fixed interest rate and flexible loan limits.
Before parents borrow from the Parent PLUS Loan program, it is best if their child exhausts eligibility for Direct Loans first, since these student loans have lower interest rates and fees.
Some parents borrow Parent PLUS Loans to make sure their children don't take on too much student loan debt. But remember, nothing stops parents from helping their children with their student loan payments. Borrowing Direct Loans before Parent PLUS Loans will save the family money.
How to Apply for a Parent PLUS Loan
View this Chart: PLUS Loans vs. Private Loans
The first step in the application process is to file the FAFSA (Free Application for Federal Student Aid) at FAFSA.ed.gov. The FAFSA is a requirement to borrow from the Parent PLUS Loan program.
To obtain a Parent PLUS Loan, parents should request a PLUS Loan at StudentLoans.gov or contact the financial aid office at the student's college or university.
Guidelines for requesting a Parent PLUS Loan:
Same parent who will complete and sign the Master Promissory Note (MPN) should request the loan.
Parent, not the student, must request the loan.
Same FSA ID that was used to sign the FAFSA must be used to request the loan.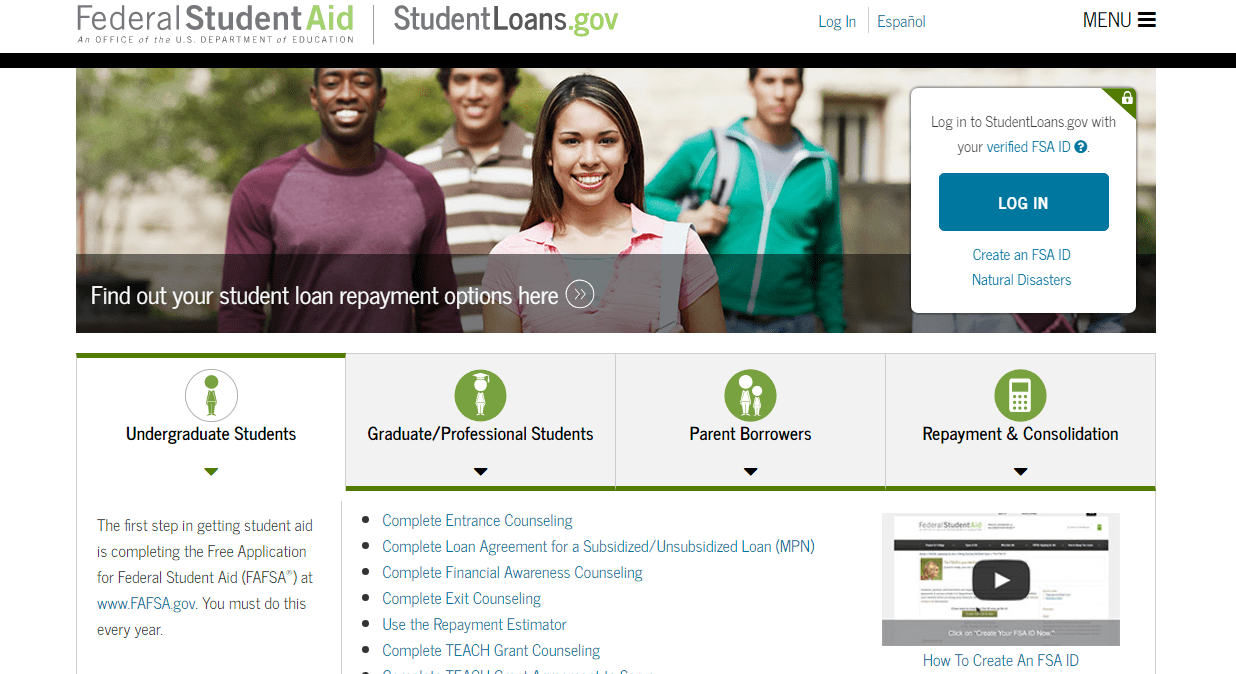 Eligibility
Parent PLUS Loans are available only to the parents of dependent undergraduate students. The parents of independent undergraduate students are not eligible for the Parent PLUS Loan.
If a dependent student's parents are divorced, both parents can take out separate Parent PLUS Loans with separate Master Promissory Notes (MPNs). But the combined Parent PLUS Loans cannot exceed the loan limits.
Who can borrow from the Parent PLUS Loan program

| | |
| --- | --- |
| Biological or Adoptive Parent | Yes |
| Stepparent | Yes, but only for as long as the stepparent is married to the student's parent |
| Grandparents, Aunts, Uncles, Other Relatives | No, unless they have legally adopted the student |
| Legal Guardians or Foster Parents | No |
Eligibility for the Parent PLUS Loan does not depend on demonstrated financial need.
Credit Requirements
Eligibility for a Parent PLUS Loan does not depend on the borrower's credit scores or debt-to-income ratios.
However, the borrower of a Parent PLUS Loan must not have an adverse credit history.
What is considered an adverse credit history:
A current delinquency of 90 or more days on more than $2,085 in total debt; or
More than $2,085 in total debt in collections or charged off in the past two years (before the date of the credit report); or
Default, bankruptcy discharge, foreclosure, repossession, tax lien, wage garnishment, or write-off of federal student loan debt in the past five years (before the date of the credit report)
If a parent has an adverse credit history, the parent can still borrow from the Parent PLUS Loan program if they can submit a successful appeal for an exceptional circumstance, or with an endorser (cosigner) who does not have an adverse credit history.
Increased Loan Limits with a PLUS Denial
If a dependent student's parent is denied a Parent PLUS Loan, the student becomes eligible for the same Direct Unsubsidized Loan limits available to independent students.
| | |
| --- | --- |
| Year 1 and 2 | $4,000 higher |
| Year 3 and beyond | $5,000 higher |
| Aggregate (cumulative) limit | $26,500 higher |
If either parent later qualifies for a Parent PLUS Loan, the student's loan limits return to the dependent student level. (Loan amounts already received under the additional Direct Unsubsidized Loan limits will not count against the lower loan limits.)
Other Requirements
The parent and dependent student must also satisfy the general eligibility requirements for federal student aid and federal student loans.
Students must be enrolled in school on at least a half-time basis
Male students must have registered with the Selective Service (not required for father)
Students and parents must be U.S. citizens or nationals, permanent residents, or eligible noncitizens
Students and parents can't be in default on a federal student loan
Parent PLUS Loan proceeds must be used for educational purposes
Interest Rates and Fees
The interest rates on Parent PLUS Loans are fixed and do not change over the life of the loan. The interest rate for the 2018-2019 academic year is 7.6%.
Every year on July 1, interest rates are reset based on current market rates. The interest rates are based on the 10-year Treasury Note (determined each year by the final auction prior to June 1) plus a fix margin (see table).
| Loan Program | Interest Rate Formula | Interest Rate Cap | Current Interest Rate (2018-2019) |
| --- | --- | --- | --- |
| Parent PLUS Loan | 10-Year Treasury + 4.60% | 10.5% | 7.6% |
The interest on a Parent PLUS Loan starts to add up (accrue) from the date the loan is first disbursed. (Generally, federal student loans are sent to schools in two or more disbursements, except at colleges and universities that have a low default rate.) If the borrower does not pay the interest as it accrues, it will be capitalized (added to the loan balance), increasing the size of the loan.
The current origination fee on Parent PLUS Loans is 4.248% *. Fees are deducted from each loan disbursement. Borrowers can ask the college financial aid office to increase the amount borrowed to cover the fees, up to the annual loan limit.
Parents may be able to deduct up to $2,500 per year in interest paid on the Parent PLUS Loan through the student loan interest deduction. This deduction is implemented as an above-the-line exclusion from income, and, thus, may be claimed even if the parent doesn't itemize on his or her federal income tax return.
*For loans borrowed on or after October 1, 2018 through Sept. 30, 2019, the origination fees will be 4.264%.
Loan Limits: How Much You Can Borrow
The annual loan limit on a Parent PLUS Loan is the full annual cost of attendance minus other financial aid received by the student. There is no aggregate (cumulative) loan limit.
The cost of attendance includes:
Tuition and fees
Room and board
Books
Supplies
Equipment
Transportation
Miscellaneous personal expenses
In-School Deferment and Grace Period
Repayment on a Parent PLUS Loan normally begins no later than 60 days after the loan is fully disbursed. However, borrowers can defer repayment of a Parent PLUS Loan first disbursed on or after July 1, 2008, while the student is in school and during a six-month grace period after the student graduates or drops below half-time enrollment status. Parent PLUS Loans can also be deferred while the parent borrower is enrolled on at least a half-time basis in an eligible program and during the 6-month grace period. However, interest continues to accrue during these deferment periods.
Repayment
The standard repayment term on Parent PLUS Loans is 10 years. However, borrowers may qualify for a longer repayment term if they consolidate the loans or have more than $30,000 in federal student loans.
Parent PLUS Loans are not eligible for public service loan forgiveness, unless the loans are consolidated and repaid under an ICR plan.
A parent's Parent PLUS Loans cannot be consolidated with the student's federal student loans, since the borrowers are different. However, a parent can consolidate their own federal student loans with Parent PLUS Loans, since these loans have the same borrower.
A Parent PLUS Loan is discharged (cancelled) if:
Borrower becomes totally and permanently disabled
Borrower dies
Student dies
Recommendations
File the FAFSA every year to maintain eligibility for student aid.
Dependent students should take out Direct Subsidized Loans (if eligible), Direct Unsubsidized Loans, and Perkins Loans before parents consider taking out a Parent PLUS Loan.
Parents should compare the costs and benefits of PLUS Loans and private student loans. Parents with excellent credit may qualify for private student loan interest rates that are lower than the current PLUS Loan rate.
If a parent is denied for a PLUS Loan due to an adverse credit history, the student should contact the school's financial aid office to request a higher limit on the Direct Unsubsidized Loan.